Prevost delivers Seven New Volvo 9700 coaches to Stylus Transportation Inc. of Orlando, FL
STE-CLAIRE, Quebec - Prevost recently delivered four new 2014 Volvo 9700 coaches and three new 2015 9700 coaches to Stylus Transportation Inc., Orlando based motorcoach company.

All three of the new 2015 coaches will be equipped with EyeRide integration system for GPS, cameras, E-logs, and IFTA tracking along with satellite TV's.

Stylus provides a dedication and professionalism to its customers, which has led to their successful operation of over 45 years in the Orlando area.
They provide professional and flexible charter and bus services all across the country and specialize in the South American, Canadian and domestic markets. The company, with 23 employees, serves a host of school, sporting, and corporate clients as well as group planning and multi-day trips.


Glen Cook, general manager, said that the company will use its newest 9700 coaches for a variety of clientele including student youth travel as well as school and university functions, casino charters, port transfers, leisure activities such as theme park transportation, and tours throughout major cities within the United States, Canada and South America.

"The smoothness of the transmission in the new 9700 is wonderful." Besides the smoothness and other accommodating features the Volvo 9700 offers, owner Fernando Martinez, feels confident in the knowledge that they are covered bumper to bumper. "Being an operator owner, it gives me great confidence and reassurance that I can talk directly with Volvo and not have to deal with a second party or builder" says Martinez.

"Everything from the financing of the coaches to the warranty is handled under one name, all which have the Volvo integrity and quality".

Stylus, always looking for ways to improve their clients' experience, also noted that the design of the luggage area and its size capacities will be a wonderful convenience for their customers.

"Additionally, the larger restrooms are a big hit" said Cook, making the clients journey just that more comfortable.


The addition of seven Volvo 9700s to the Stylus fleet is an impressive addition to the community, making more charters and trips available for all those that want to ride in comfort in style to their next function.
CLASSIFIED ADS
WANTED
Busy bus operator looking to purchase a set of used 4 or 6 post wheel lifts. Must be in good working order and must be able to certify.
Send description to: blindbus@bussolutions.com
PARTS BUSES FOR SALE
MCI F-3500 fire bus. Many good body panels, interior, package racks, mirrors, baggage doors and glass. MCI J-4500 accident bus. Many good baggage doors, glass, seats, package racks, complete drive train (engine, transmission, rear-end, tag assemblies, engine doors, radiators, fan drives, air conditioning condensers.
E-Mail: blindbus@bussolutions.com
for photos and more details.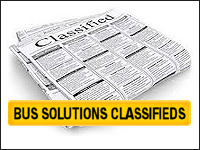 Bus Weekly Classified Ads
We'll be offering an all
new Classified Ads section
starting next week
in Bus Weekly!
Contact Us Today
for Classified Ads Placement and Sizes!