Advantage Funding: Ownership Transition, New President

LAKE SUCCESS, N.Y. – February 25, 2015

Advantage Funding, one of the nation's largest commercial transportation lenders and a subsidiary of Marubeni America Corporation since 2006, recently announced an ownership transition agreement.

The agreement gave Marubeni, a multi-national, multi-billion-dollar Japanese trading company, full ownership of the company and moved Advantage Funding's CFO Alvaro (Al) Damiani into the position of president.

Don Coolbaugh assumed the position of Chief Sales Officer. Marubeni America executives had long expressed an interest in assuming full ownership of Advantage Funding, and a recent agreement reached with Advantage Funding's principals made this possible.



Al Damiani has more than 25 years of experience in the leasing and finance industry, and served as Advantage Funding's CFO for the last two and a half years. Prior to joining Advantage Funding, Damiani served as CFO of Vendor Finance for CIT in the U.S., leading the finance function for CIT's largest segment, providing leases and loans to direct customers as well as dealers and resellers through equipment manufacturing programs.

"With the full backing of Marubeni America Corporation and its resources, Advantage Funding remains committed to its very high levels of personal service in commercial and vocational equipment financing and support to partners in captive finance," said Damiani.

Don Coolbaugh has been with Advantage Funding since the company's inception, bringing more than 20 years of experience in sales and business development. "Our team has the same strong integrity and desire to help that our customers have come to expect," said Coolbaugh. "We look forward to growing our many valuable relationships, and to entering new ones." Read More >

IC Bus
and
Power Solutions International

IC Bus and Power Solutions International have teamed up to bring the propane engine to the school bus industry.

Inside of Power Solutions International (PSI), the brightly lit manufacturing facility in Wood Dale, Ill., the future of school bus engines is undergoing a revolution. Workers meticulously attach cylinder heads to the company's signature alternative-fuel 8.8-liter engine. There's a humming conveyor belt connecting the various build stations and plenty of automated machinery. But much of the work here is hands-on. "It gives us flexibility so we can create engines tailor-made for certain applications," explains Jeff Ehlers, PSI's vice president of on-highway engines. "We own the tooling, so we can do things other companies might not be able to do."

It's that ability to offer custom, purpose-built products that led Lisle-based IC Bus to partner with its suburban Chicago neighbor as the exclusive supplier of propane-fueled engines for its school buses, which the two companies expect to have on the road by the 2015 school year.



The seeds for collaboration were planted a few years ago when Troy Clarke, the CEO of IC Bus' parent company, Navistar, personally drove a medium-duty test truck featuring the liquid-injected 8.8-liter. "He was amazed that we were able to create an alternative fuel engine that drives quietly, but with the power of a diesel engine," says Eric Cohen, PSI's chief operating officer. Read More >
CLASSIFIED ADS
WANTED
Busy bus operator looking to purchase a set of used 4 or 6 post wheel lifts. Must be in good working order and must be able to certify. Send description to:
blindbus@bussolutions.com
PARTS BUSES FOR SALE
MCI F-3500 fire bus. Many good body panels, interior, package racks, mirrors, baggage doors and glass. MCI J-4500 accident bus. Many good baggage doors, glass, seats, package racks, complete drive train (engine, transmission, rear-end, tag assemblies, engine doors, radiators, fan drives, air conditioning condensers.
E-Mail: blindbus@bussolutions.com
for photos and more details.
1/2 OFF WEB SITE HOSTING
BusyBrain, Inc. offers full web site hosting INCLUDING unlimited number of email addresses, on-line access, 1 GIG of email storage, autoresponders, and more. "Hands Free" set-up, 24/7 Duty Manager, and custom service since 1999. Mention Bus Solutions for 1/2 off through 2015! Contact Tina at Tina@BusyBrainInc.com.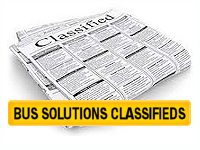 Bus Weekly Classified Ads
We'll be offering an all
new Classified Ads section
starting next week
in Bus Weekly!
Contact Us Today
for Classified Ads Placement and Sizes!