Trailways names New CEO

Fairfax, Virginia - March 12, 2015 - The Trailways Transportation System (Trailways) has named Sheila D. Ryba as its new President and Chief Executive Officer, effective March 16, 2015. She follows Trailways' former president/CEO, Gale C. Ellsworth.

Ryba brings a background of varied experience with both profit and non-profit organizations to her new Trailways leadership position. Besides her own consulting firm that specializes in business development, lobbying, fund development and strategic planning.

Ryba has led several non-profit organizations, including the Boys and Girls Club of Durham, the Alice Aycock Poe Center for Health Education in Raleigh, the San Diego regional office for the American Heart Association and the Savannah Hospitality Association.

"We are delighted to welcome Sheila Ryba to the Trailways team," said Ron Moore, Trailways' Chairman and the President of Iowa-based, Burlington Trailways. "She brings impressive experience to us that will enable Trailways' brand building and expansion throughout North America and beyond."

Moore introduced Ryba at Trailways' 79th annual stockholders meeting and conference in Palm Springs, March 8-11. She responded with her vision for Trailways' future growth on several fronts. "I look forward to guiding the Trailways brand into even more routes of transportation excellence than it already has enjoyed in its nearly 80 years of existence," said Ryba. "Those who have come before me have built a respected American business icon, and though I am looking at some very big shoes to fill, I am excited about helping our team members find even more ways to build their businesses. One of the areas we will be focusing on is partnerships with state and local municipalities to help them build municipal transportation systems. I also see lots of potential for Trailways' charter business growth; and, growth for more industry partners who find mutual benefit in supporting our carrier network," stated Ryba.

Caterpillar seeks consolidation of class action lawsuits over ACERT engines

By Clarissa Hawes, Land Line staff writer

Attorneys for Caterpillar Inc. are asking a panel of federal judges to consolidate five putative class action lawsuits filed against the company over alleged defects with its C13 and C15 engines purchased between 2007 and 2010.

According to court documents, Caterpillar is requesting that the U.S. Judicial Panel on Multidistrict Litigation consolidate and transfer the cases to the U.S. District Court for the Southern District in Florida.

Paul M. Weiss's firm, Complex Litigation Group LLC in Highland Park, Ill., represents truck and bus owners who purchased vehicles with the allegedly defective C13 and C15 engines.

"What we have found from our clients is that after purchasing vehicles with these engines, they found out they are basically lemons," Weiss told Land Line on Monday, March 24. "Besides the constant breakdowns, it's a huge financial burden because there's the money you have to lay out to fix the ARD (Aftertreatment Regeneration Device) head to have these engines regenerate or repower."

Weiss said clients with the Advanced Combustion Emissions Reduction Technology (ACERT) diesel engines claim they started experiencing engine breakdowns about every 20,000 miles. He said their buses or trucks would suddenly shut down to regenerate or repower and had to be towed to a Caterpillar-authorized repair facility because the computer codes and software were proprietary. "It you are a bus owner and you are driving a bunch of folks on the bus, that's a major problem obviously when it shuts down and you have people on board," he said. Read More >
CLASSIFIED ADS
FOR SALE
2013 E-450 Ford Limousine Black Bus.

Bumper to Bumper Warranty for 15 Months or 15,000 Miles

. 20 passenger co-pilot seat up front, iPod hookups, TV, CD, DVD, lighting, window shades, divider door.

Excellent condition

. 21,000 miles $74,900. Call Jeff: 330-369-4847
WANTED
Busy bus operator looking to purchase a set of used 4 or 6 post wheel lifts. Must be in good working order and must be able to certify. Send description to:
blindbus@bussolutions.com
PARTS BUSES FOR SALE
MCI F-3500 fire bus. Many good body panels, interior, package racks, mirrors, baggage doors and glass. MCI J-4500 accident bus. Many good baggage doors, glass, seats, package racks, complete drive train (engine, transmission, rear-end, tag assemblies, engine doors, radiators, fan drives, air conditioning condensers.
E-Mail: blindbus@bussolutions.com
for photos and more details.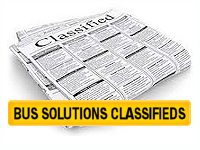 Bus Weekly Classified Ads
We'll be offering an all
new Classified Ads section
starting next week
in Bus Weekly!
Contact Us Today
for Classified Ads Placement and Sizes!