2015 Innovative Operators: Astro Travel and Tours

Tallahassee, Florida



Astro Travel and Tours began in 1970 as a full-service travel agency. However, as the Internet started to boom in the mid-1990's causing the industry to take a hit, Astro purchased its first motorcoach.

The goal was to supplement business by doing local shuttle work. However by 2000, Astro decided to disband its agency and continue on as a charter and tour company. Business is now comprised of 90% charter and 10% tour.

A major component of Astro Travel and Tours' longstanding success, despite the economic odds, is their methodical and directed business strategy. "We want to motor along and focus really intently on our geographical area to be the best we can be in that space," says Matt Brown, Astro's GM. "We're not going to rush to guarantee growth or jump into another market and spread ourselves too thin. We hope to steadily do better every year."

Regionally, senior citizens make up a key demographic, and Brown has found motorcoaches to be a preferred mode of travel. "Not only are motorcoaches more comfortable, but a four-hour bus ride might be faster than a shorter plane ride, plus security and wait time," Brown says. "With a bus, the journey and scenery along the way are part of the experience, not just the destination, and there's the luxury of stopping along the way."

As well, the company focuses on providing the latest amenities to their customers every year. This includes power outlets at every seat, live television and individual climate control. The oldest buses in its fleet are 2012 models and Astro operates strictly Prevost and Temsa vehicles.

"Other companies buy every year but still retain old motorcoaches," Brown says. "I can't disagree from a profit perspective, but our customers and clientele just come to expect newness from Astro, and therefore, it's part of our business model."

Astro's driver retention is high, with some driving with the company since 1970. Brown connects this statistic with equipment status. "They take so much pride in the type of equipment we put on the road," Brown says. "That's their product and their livelihood."

In 2015, one of the company's biggest efforts will be a renewed focus on driver training. The management team plans to spend more time detailing expectations and also monitoring on-board vehicles. This past fall, Astro has implemented Quality Control Riders (QCR). "QCRs are a group of drivers who really understand what it means to be a motorcoach operator," Brown says. "In order to properly train our drivers, a QCR goes on the bus with a driver and monitors to make sure they're doing things the Astro way." According to Brown, the idea is that if the company drivers collectively improve, the overall customer service experience will enhance as well. "I would say we are in the beginning stages of our QCR experiment," Brown says.

"We fully anticipate that this program will have a positive impact on the way our drivers operate within our system.

FIRST STUDENT Hosts Junior Achievement Day

Cincinnati, Ohio
Cincinnati Public School students enrolled in the Junior Achievement program at Woodward Career Technical High School recently had the opportunity to learn more about First Student, the company that provides student transportation for the school district.

First Student hosted a Junior Achievement Job Shadow Day at its headquarters in downtown Cincinnati on Friday, March 20. The Woodward students spent a half-day touring the corporate office and meeting First Student executives from nearly every department within the business, including operations, human resources, marketing and accounting.

"We are proud to support Junior Achievement," said Dennis Maple, First Student President. "We also recognize the importance of education as the foundation for children to lead productive, meaningful and happy lives. Job Shadow Day gives students a reference point that can help guide their future choices by seeing first-hand the range of knowledge and skill a job within our industry requires."

Junior Achievement is dedicated to educating elementary, middle and high school students about business and economics through hands-on experiences that help students plan for their future.

First Student realizes the positive impact it can have on students extends beyond the bus stop. The company is proud to take an active role in the lives of children in the Cincinnati community. First Student transports more than 16,000 Cincinnati Public School students daily.


ABOUT FIRST STUDENT, INC.



First Student, Inc. - a division of Cincinnati, Ohio-based FirstGroup America - is the leader in safe, reliable, sustainable transportation and the largest provider of student transportation services in North America.

The company safely transports approximately 6 million students every day in the US and Canada, using a fleet of 54,000 buses. The safety and security of its passengers is the company's core value, and in 2009 FirstGroup America was awarded the National Safety Council's prestigious Green Cross for Safety Medal in recognition of its commitment to safety and outstanding safety record.

For more information, please visit www.firststudentinc.com.
CLASSIFIED ADS
FOR SALE
2013 E-450 Ford Limousine Black Bus.

Bumper to Bumper Warranty for 15 Months or 15,000 Miles

. 20 passenger co-pilot seat up front, iPod hookups, TV, CD, DVD, lighting, window shades, divider door.

Excellent condition

. 21,000 miles $74,900. Call Jeff: 330-369-4847
PARTS BUSES FOR SALE
MCI F-3500 fire bus. Many good body panels, interior, package racks, mirrors, baggage doors and glass. MCI J-4500 accident bus. Many good baggage doors, glass, seats, package racks, complete drive train (engine, transmission, rear-end, tag assemblies, engine doors, radiators, fan drives, air conditioning condensers.
E-Mail: blindbus@bussolutions.com
for photos and more details.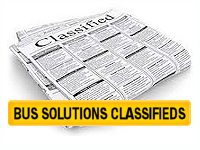 Bus Weekly Classified Ads
We'll be offering an all
new Classified Ads section
starting next week
in Bus Weekly!
Contact Us Today
for Classified Ads Placement and Sizes!