ABC Companies Appoints New Account Manager
ABC Companies has announced the appointment of Scott Evans as Account Manager in their Southeastern Region.

Scott will be partnering with Ryhan Cornell and Claude Payne to work with customers in Kentucky, North and South Carolina, Virginia, and West Virginia.

A graduate of the University of Central Florida in Orlando, Scott spent 15 years in the automotive industry employed by both Lexus and a major software provider, Reynolds & Reynolds, covering the Southeast.

Brian Pinckney, Sales Manager of ABC's Southeast Region remarked, "We are very pleased to have Scott join our ABC Team. His experience in sales and account management and his commitment to providing excellent customer service and support is a perfect fit with ABC's customer-focused direction."

With award-winning success in both sales and account management, Scott has a proven record of increasing customer satisfaction and loyalty by fostering a culture of honesty, transparency and personal integrity that will easily translate into his new customers.

ABC Companies is a leading provider to the transportation industry with diverse product and service offerings that cover a full spectrum of operational needs including new and pre-owned full size highway coach equipment, mid-size shuttle transport vehicles, and advanced design heavy duty transit equipment. ABC supports customers with a comprehensive after sale service network for service and repairs, collision services, extensive OEM and quality aftermarket parts needs for transit, motorcoach and heavy-duty equipment from nine strategically placed locations throughout the U.S. and Canada. Additionally, private and municipal financing and leasing options are available through the company's financial services group – one of the largest financial service providers within the industry. For more information, contact ABC Companies at 800-222-2875 or visit the company web site at www.abc-companies.com.
APTA: Public Transit users save $9,316 annually

This month the annual savings for public transit riders is $9,316, according to the American Public Transportation Association's (APTA) March Transit Savings Report. Individuals who ride public transportation instead of driving can also save, on average, more than $776 per month.

The savings are based on the cost of commuting by public transportation compared to the cost of owning and driving a vehicle.
This includes the March 30, 2015 average national gas price of $2.42 per gallon - reported by AAA - and the national unreserved monthly parking rate numbers.

APTA releases this monthly Transit Savings Report to examine how an individual in a two-person household can save money by taking public transportation and living with one less car.

The national average for a monthly unreserved parking space in a downtown business district is $166.26, according to the 2012 Colliers International Parking Rate Study, which is the most recent report available. Over the course of a year, parking costs for a vehicle can amount to an average of $1,995.
CLASSIFIED ADS
FOR SALE
2013 E-450 Ford Limousine Black Bus.

Bumper to Bumper Warranty for 15 Months or 15,000 Miles

. 20 passenger co-pilot seat up front, iPod hookups, TV, CD, DVD, lighting, window shades, divider door.

Excellent condition

. 21,000 miles $74,900. Call Jeff: 330-369-4847
PARTS BUSES FOR SALE
MCI F-3500 fire bus. Many good body panels, interior, package racks, mirrors, baggage doors and glass. MCI J-4500 accident bus. Many good baggage doors, glass, seats, package racks, complete drive train (engine, transmission, rear-end, tag assemblies, engine doors, radiators, fan drives, air conditioning condensers.
E-Mail: blindbus@bussolutions.com
for photos and more details.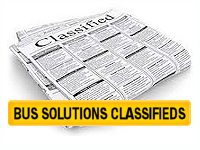 Bus Weekly Classified Ads
We'll be offering an all
new Classified Ads section
starting next week
in Bus Weekly!
Contact Us Today
for Classified Ads Placement and Sizes!