Welcome Roman Aaron!
Meet the newest member of the Bus Solutions, LLC team and the Mendenhall family:


Born April 8, 2015 at 3:52 pm.
8 pounds, 8 ounces - 22"
MCI holds All Star Open House
DES PLAINES, IL

To celebrate the all-star, best-selling rankings of the MCI J4500 and D-Series coaches, MCI is inviting operators and their teams to MCI Sales and Service Center open houses and Reliability Rallies this spring and summer.

The one-day open houses will feature deals on coaches, test-drives, discounts, training, supplier partner educational sessions, food, free baseball tickets and more.

MCI's winning team will be on-site, including sales, service and support, along with supplier partners and top-selling coaches from MCI and Setra.

"We are inviting all of our customers and prospects to join us for a fun day and to bring those from their company who might benefit from the experience," said Patricia Ziska, MCI vice president of new coach sales.

The open houses take place on April 28 in Dallas; May 13 in Des Plaines, Illinois; May 21 in Winter Garden, Florida; June 9 in Blackwood, New Jersey; June 30 in Los Alamitos, California; and October 13 in Montreal, Quebec.




Open-house deals will include down-payment discounts on demos and in-stock inventory; 10 percent off of parts purchased at the event; a discounted $59 hourly labor rate on service scheduled during the open house; and $5,000 off any pre-owned coach purchased during the open house.

"We're coming off of a very successful trade-show season, and we want to make sure all operators - not just those who came to UMA Expo New Orleans and Marketplace in St. Louis - get a chance to explore our latest models and see how well our new ZF independent front suspension and Bendix Wingman adaptive cruise control and braking perform on our J4500," said Brent Maitland, vice president of marketing and product planning. READ MORE >
April 9th: "Stand Up 4 Transportation Day"
Two proposals introduced in Congress to eliminate federal funding for public transportation would be disastrous for local communities and their economies, according to a new analysis developed by the American Public Transportation Association (APTA).

The analysis shows that proposals to cut federal funding for public transit would result, on average, in a 43 percent reduction in a community's capital improvement funding. Overall, the loss of federal capital and operating funding would put at risk more than $227 billion in economic activity over six years.



The loss of federal funds would impact the reliability and safety of bus and train service as well as jeopardize new services and projects.

Specifically:

38,000 buses or 57 percent of the nation's public transit bus fleet would not be replaced.

Overall, 66 new public transit projects could be stalled. Many of these projects serve as a catalyst for economic development in every region of the country.

Rail maintenance, expansion and rail car replacement would be significantly impacted.

Small and rural communities would be adversely affected because a greater percentage of their total funding is from the federal government.

A lack of federal funding for my system in Denver would be devastating because in just one year it would result in a 15 percent cut in public transit service, and a $74 million cut in my budget which translates directly to job losses in both the private and public sector," said Phillip A. Washington, APTA Chair and General Manager and CEO of Denver Regional Transportation District. "Our country has been on a vacation from investing long-term in our infrastructure. That is why we are mobilizing citizens today across the country to 'Stand Up for Transportation'. READ MORE >
CLASSIFIED ADS
FOR SALE
2013 E-450 Ford Limousine Black Bus.

Bumper to Bumper Warranty for 15 Months or 15,000 Miles

. 20 passenger co-pilot seat up front, iPod hookups, TV, CD, DVD, lighting, window shades, divider door.

Excellent condition

. 21,000 miles $74,900. Call Jeff: 330-369-4847
PARTS BUSES FOR SALE
MCI F-3500 fire bus. Many good body panels, interior, package racks, mirrors, baggage doors and glass. MCI J-4500 accident bus. Many good baggage doors, glass, seats, package racks, complete drive train (engine, transmission, rear-end, tag assemblies, engine doors, radiators, fan drives, air conditioning condensers.
E-Mail: blindbus@bussolutions.com
for photos and more details.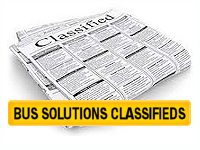 Bus Weekly Classified Ads
We'll be offering an all
new Classified Ads section
starting next week
in Bus Weekly!
Contact Us Today
for Classified Ads Placement and Sizes!