CH Bus delivers TS 30 to Hawaii

Royal Star Hawaii continues to expand its transportation offerings to meet the evolving needs of travelers with the addition of two new Gold TEMSA TS 30 Series Mini Coaches from CH Bus Sales.

The new 34-seat mini coaches feature designer upholstery, reclining chairs with adjustable footrests, and individual lighting and air conditioning controls. The large tinted windows with adjustable shades offer wide panoramic views, while an air ride suspension provides a smooth, comfortable ride.

The mini coaches also include an advanced audio/DVD video system with microphone and flat screens. The kneeling feature allows for easy access boarding. The world class TEMSA coach is a fully integral mid-sized coach, constructed from stainless steel, with an independent front suspension and automatic transmission, contributing to a smooth, comfortable drive. The superb European design and quality create a superior customer experience, while the American driveline (Cummins/Allison) provides excellent power and optimum serviceability, according to the company.

New "GoMotorcoach" Program Emphasizes Sales & Marketing

Beginning in 2014, the Motorcoach Marketing Council began unveiling its new "GoMotorcoach" campaign and branding, which shifted its original focus from being the advocacy voice for the industry to helping the industry find its own voice in the markets they serve.


"The Council started with a broader base idea that we would one day reach out to consumers through national media ads directly to get them to ride motorcoaches," explains the Council's Chair Peter Shelbo.

"Through some decisions amongst the present board, we decided it would be the best to train the operators how to reach out to customers in their markets while maintaining our 'Go Motorcoach' branding."

The program the Council began to roll out in 2014 at the American Bus Association's Marketplace, the United Motorcoach Association's Expo and other industry shows around the nation now includes a host of marketing flyers, post cards, rack cards, table cloths, posters and more that operators can access via the Council's website (http://motorcoachmarketing.org), customize with their own branding and photos, and print out to help increase their business as well as the industry's overall profile.

GoMotorcoach also includes videos on as many as 22 specific niches — from weddings to concerts and events — that first help teach operators about the opportunities available in that particular market, and then, what they can do to begin generating business in that specific sector.

"What we're really trying to do is create a structure that we can use to educate the industry and make them more effective," says Christian Riddell of deliverabilities.com, the creative force behind the new GoMotorcoach tools and training programs. "The mission of the Council hasn't really changed, they want more people riding on coaches tomorrow then they did today, but the way that will happen is accessing the marketing budgets of all of the individual operators that are already spending money and helping them to become more effective at what they do."
dustry new vitality. READ MORE >

ABC delivers Van Hools to Iowa, Calif.

Carroll, Iowa's Windstar Lines took delivery of five new 2015 Van Hool CX2045's from ABC Companies, which are powered by a Cummins ISX engines and B500 Allison transmissions.

The coaches boast Alcoa Durabright wheels, chrome mirrors, and an ASA back-up camera and are equipped with wood-grain flooring, leather passenger seats, REI's Elite multi-monitor DVD entertainment system, Van Hool's unique rear passenger window and ASA Side-view cameras.

Meanwhile, San Diego's Goldfield Stages recently took delivery of two new 2015 Van Hool CX's.

The luxury coaches, powered by Cummins ISX engine coupled to Allison's B500 Six-Speed Automatic (Gen5) transmission boast Van Hool's exclusive contoured parcel rack with 22-inch video monitors, leather seats, rear passenger windows and wood grain floors.
CLASSIFIED ADS
FOR SALE
2013 E-450 Ford Limousine Black Bus.

Bumper to Bumper Warranty for 15 Months or 15,000 Miles

. 20 passenger co-pilot seat up front, iPod hookups, TV, CD, DVD, lighting, window shades, divider door.

Excellent condition

. 21,000 miles $74,900. Call Jeff: 330-369-4847
PARTS BUSES FOR SALE
MCI F-3500 fire bus. Many good body panels, interior, package racks, mirrors, baggage doors and glass. MCI J-4500 accident bus. Many good baggage doors, glass, seats, package racks, complete drive train (engine, transmission, rear-end, tag assemblies, engine doors, radiators, fan drives, air conditioning condensers.
E-Mail: blindbus@bussolutions.com
for photos and more details.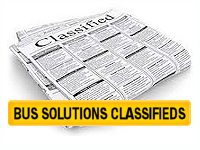 Bus Weekly Classified Ads
We'll be offering an all
new Classified Ads section
starting next week
in Bus Weekly!
Contact Us Today
for Classified Ads Placement and Sizes!