Public Transit Companies Among Country's Best Employers
What do transit authorities like SEPTA, MBTA, MTA and BART have in common other than transporting thousands, even millions of riders every day?

All were recently ranked as four of the U.S.'s 500 "Best Employers" by Forbes magazine.

SEPTA, MBTA, MTA and BART were among 25 organizations included in Forbes' "Transportation & Logistics" category, along with Southwest Airlines, Amtrak, CSX, Union Pacific and Greyhound

In fact, SEPTA (#33) and MBTA (#49) placed higher than Apple (#55) and SEPTA was the highest ranked company in Pennsylvania.



"We've known for years that mass transit is one of the best industries in which to work," said SEPTA GM Joseph M. Casey. "The Forbes list confirms this for the rest of the country."

The Forbes rankings are derived from an online survey of 20,000 American workers. Respondents gave their opinions of their employers and other companies in their industries.

According to Forbes, Statista, a firm that partnered with the publication, used the survey data to form a list of 3,500 employers "for

whom there was a statistically relevant result." The list of 3,500 was then narrowed down to the 500 companies on the "Best Employers" list. In all, the 500 companies ranked by Forbes comprise 24 categories, ranging from "Media & Advertising" and "Health Care Equipment and Services" to "Education" and "Drugs and Biotechnology."

Mass transit has so many career paths for employees - more than the public might think. Of course the operations staff - engineers, conductors, operators and mechanics - are the "driving" force of a transportation organization. But there are job opportunities in fields such as finance, engineering, government affairs and law enforcement, too. In addition to offering a variety of work prospects, transportation authorities often have long-term employees, proving the companies to be more stable than those in other industries.

In its 9,000-person organization, SEPTA has many staff members who have been with the authority for well over 30 years, including Casey, who joined SEPTA in 1982.

That speaks volumes to the pride employees have in the organization, their dedication to their fields and their enjoyment of their jobs. SEPTA travel training. SEPTA travel training. Public transit is a necessity and the rewards of working in the industry are many.

CLASSIFIED ADS
FOR SALE
2013 E-450 Ford Limousine Black Bus.

Bumper to Bumper Warranty for 15 Months or 15,000 Miles

. 20 passenger co-pilot seat up front, iPod hookups, TV, CD, DVD, lighting, window shades, divider door.

Excellent condition

. 21,000 miles $74,900. Call Jeff: 330-369-4847
PARTS BUSES FOR SALE
MCI F-3500 fire bus. Many good body panels, interior, package racks, mirrors, baggage doors and glass. MCI J-4500 accident bus. Many good baggage doors, glass, seats, package racks, complete drive train (engine, transmission, rear-end, tag assemblies, engine doors, radiators, fan drives, air conditioning condensers.
E-Mail: blindbus@bussolutions.com
for photos and more details.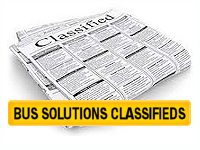 Bus Weekly Classified Ads
We'll be offering an all
new Classified Ads section
starting next week
in Bus Weekly!
Contact Us Today
for Classified Ads Placement and Sizes!