Planning Campus Transportation, or Trans System Issues
With college and university populations continuing to swell, space often becomes constrained, forcing many to choose between building more parking lots or more buildings.

When the decision is made to expand its facilities over adding parking, many colleges and universities are left with finding ways to transport students from the lots, as well as from surrounding housing, satellite campuses and more, to their classes.

BusOps spoke with consultant Bob Bourne of Bourne Transit Consulting LLC about some things colleges and universities should consider when building routes, as well as some of the issues they may experience when embarking on the process of creating a transportation network on campus.

Planning the System

Bourne explains there are several issues to consider when planning routes for campus systems:

1) What are you trying to accomplish? The first step is clearly the biggest and that is addressing where you want to go. "Some systems just want circulation to and from housing and parking lots to the classrooms," Bourne explained. "If it's a really big university, some want circulation in between campuses and other offsite, university-owned buildings."

Bourne added that many colleges and universities may also want circulation off campus in high residential density not owned by the school, for example, to reduce shorter trips people may be taking in their personal vehicles.

2) Parking Demand
With parking lots often a pretty sizable distance from the actual classrooms, it's important for colleges and universities to provide transportation to and from their parking lots, Bourne explained. In conjunction, if a school is aiming to reduce the amount of vehicles coming to campus, it is also critical to provide transportation options to and from student housing facilities, and again, high density residential areas surrounding the campus, as well.

3) Who will run it?
Does the city, or whoever provides public transportation services in the area, contract with the university or is the university contracting with the city to provide service? If they both have their own individual systems, do they have a joint management agreement with separate policy boards? "Setting up the route system is one part of the equation, but who will run it is the other important part," Bourne said.

4) What are the fares going to be?
Along with who is going to run the system, the last part is who is going to pay for it? As Bourne explained, if they are university-owned buses, chances are students will ride for free. However, if they are setting up a partnership with the city or local transportation agency, an agreement must be struck as to who will be paying the fares and how. Will the students ride for free and pay a fee when they register, or will they ride for a reduced fare?

Things to Consider
One possible pitfall colleges and universities may want to look out for when planning routes, is underestimating demand and planning poor service levels, according to Bourne. "A weakly designed system might have buses running from a parking lot to campus every 20 to 30 minutes, but it may take 10 to 15 minutes to make the same trip on foot," he said. "In that case, it probably makes more sense to just walk than to take the bus, which really defeats the purpose."

Another pitfall Bourne often sees is those planning the system might not spend time examining student travel data. "[What you can do is] take the student population and the number of student rides per year and that gives you the number of rides per capita," said Bourne. "Healthy systems might have 170 to 180 rides per capita, per year. Other schools might see the numbers are like 20 rides per capita. If you have a school of 10,000 students and you are providing 200,000 rides a year, that's an indicator you are not meeting demand." In short, without examining that data, school officials may not be aware how much frequency they may need. Additional data on travel patterns of students will help determine demand for on-campus and off-campus trips. Social media and campuswide surveys are also effective ways to get student input on their travel patterns,

Creating Standards in Bus Operations - by Louie Maiello

Those of you who take a few minutes each month to follow my blogs, or have attended one of my past presentations at transit events, first let me thank you. These blogs and presentations, in combination, have been promoting surface transit standards in a form of a standardized curriculum for over 10 years now.

I ask you, are we not long overdue in getting transit specific standards a done deal? By the time of this posting, I would have again stood before a group of transit professionals at a recently attended transit function in Orlando, Fla., speaking on this exact topic.


Curriculum is only one of many ingredients that make up a "Total Standards Package." There may be many ways that basic skills are being taught to new hire bus operator candidates throughout our agencies, but the standardization of the methods we use and how consistent we are in delivering them as "Standard Operating Procedures," (SOP) is what we should be discussing. It's time for us to discuss and agree on what the safest applications and formulas are and deliver them as part of SOPs agency-wide.

Other ingredients to be considered in a "Standards" program are:

A fixed amount, not an endless amount, of skill development time on the training bus

A "Train the Trainer" program - Route familiarization for bus operators.

Standardized written assessments

A corrective action program

Collision ratings standardization

An annual refresher program

A potential problem operator program

Transitional Operator Program

A post-training program

Automatic final day disqualifiers

Hiring procedures - Eliminating potentially unsafe candidates prior to training bus assignment.

Giving bus operators every possible advantage in providing safe reliable service after basic skill development training can begin with operator-friendly bus designs. Increasing visibility for the operator as opposed to decreasing visibility by unfriendly windshield designs, and in some cases oversized mirrors and size and placement of fareboxes.


Pedestrian contact, especially on left turns along with right-side fixed object contact, can be greatly reduced by providing bus operators the best unobstructed view possible of both the road ahead and to the sides of the bus. READ MORE >
CLASSIFIED ADS
FOR SALE
2013 E-450 Ford Limousine Black Bus.

Bumper to Bumper Warranty for 15 Months or 15,000 Miles

. 20 passenger co-pilot seat up front, iPod hookups, TV, CD, DVD, lighting, window shades, divider door.

Excellent condition

. 21,000 miles $74,900. Call Jeff: 330-369-4847
PARTS BUSES FOR SALE
MCI F-3500 fire bus. Many good body panels, interior, package racks, mirrors, baggage doors and glass. MCI J-4500 accident bus. Many good baggage doors, glass, seats, package racks, complete drive train (engine, transmission, rear-end, tag assemblies, engine doors, radiators, fan drives, air conditioning condensers.
E-Mail: blindbus@bussolutions.com
for photos and more details.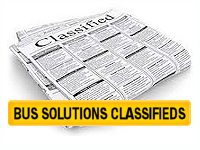 Bus Weekly Classified Ads
We'll be offering an all
new Classified Ads section
starting next week
in Bus Weekly!
Contact Us Today
for Classified Ads Placement and Sizes!