Apple to introduce transit maps to iOS9

Apple is said to be planning to bring built-in transit directions to its native Maps app in iOS 9. Transit directions were left out when Apple replaced Google Maps with its own offering as the default navigation app in iOS 6 back in 2012. The native transit directions offering is actually a feature that was held over from an intended release last year with iOS 8, according to 9to5Mac, which reported both that intended launch and this new iOS 9 inclusion.

Apple is said to have made a late-stage decision to take transit navigation out of iOS 8, according to the new report, and instead intends to launch it with this year's update of its mobile OS. The directions would offer the ability to plan trips, getting estimated travel times for bus, train and subway transit methods. It would offer multiple trip options, as well as a special map view detailing local transit stops alongside its Standard, Hybrid and Satellite visualization options.

Besides transit, which is likely a welcome addition for many urban iOS device owners (especially now that the Apple Watch could potentially provide at-a-glance route checking) Apple is also said to be working on building out its indoor mapping capabilities. The ability to navigate major landmarks and buildings with granular indoor directions is a feature that Apple apparently wants to offer, though it like will come at a later date, rather than bundled with the iOS 9 update we'll almost certainly see introduced at WWDC in June.

World Trade Center Transportation Hub

The state-of-the-art World Trade Center Transportation Hub, when completed in 2015, will serve over 200,000 daily commuters and millions of annual visitors from around the world. At approximately 800,000 square feet, the Hub, which features a wing-like "Oculus" design, will connect visitors to 11 different subway lines, the Port Authority Trans-Hudson (PATH) rail system and Battery Park City Ferry Terminal.
CLASSIFIED ADS
FOR SALE
2013 E-450 Ford Limousine Black Bus.

Bumper to Bumper Warranty for 15 Months or 15,000 Miles

. 20 passenger co-pilot seat up front, iPod hookups, TV, CD, DVD, lighting, window shades, divider door.

Excellent condition

. 21,000 miles $74,900. Call Jeff: 330-369-4847
ENTERTAINER BUS WANTED
Looking for a star bus built on a Prevost H3-45 or a Prevost XLII, model year 2005 to 2008 with double slides. Prefer low mileage, front lounge and rear stateroom. Should have 6 bunks min. front and rear slides. Cash buyer. Send photos, specs and mileage to blindbus@bussolutions.com.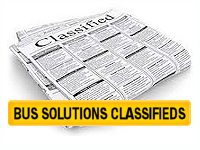 Bus Weekly Classified Ads
We'll be offering an all
new Classified Ads section
starting next week
in Bus Weekly!
Contact Us Today
for Classified Ads Placement and Sizes!