NHTSA Mandates Anti-Rollover Tech in Buses
The National Highway Traffic Safety Administration (NHTSA) finalized its rule requiring electronic stability control (ESC) systems on heavy trucks and large buses (FMVSS No. 136).

"ESC is a remarkable safety success story, a technology innovation that is already saving lives in passenger cars and light trucks," U.S. Transportation Secretary Anthony Foxx said. "Requiring ESC on heavy trucks and large buses will bring that safety innovation to the largest vehicles on our highways, increasing safety for drivers and passengers of these vehicles and for all road users."

Read the final rule ESC works instantly and automatically to maintain directional control in situations where the driver's own steering and braking cannot be accomplished quickly enough to prevent the crash. The National Transportation Safety Board has recommended a requirement for ESC on heavy-duty vehicles since 2011.

The Moving Ahead for Progress in the 21st Century Act, enacted in 2012, directed NHTSA to consider an ESC requirement for motorcoaches, which are covered in today's rule. A rule requiring light-duty vehicles to include ESC took effect in 2012.

"Reducing crashes through ESC in these trucks and buses will save lives - nearly 50 each year. It will move goods and people more efficiently and reduce the toll crashes take on our economy through traffic delays and property damage," said NHTSA Administrator Mark Rosekind.

NHTSA estimates the rule will prevent as many as 1,759 crashes, 649 injuries and 49 fatalities each year. ESC will prevent up to 56% of untripped, rollover crashes - that is, rollover crashes not caused by striking an obstacle or leaving the road. The final rule announced today requires ESC systems on heavy trucks and large buses exceeding 26,000 pounds in gross weight. Compliance will be tested using a "J-turn" test that replicates a curved highway off-ramp. It will take effect for most heavy trucks two years from publication. The requirement will take effect in three years for buses larger than 33,000 pounds and four years for those weighing between 26,000 and 33,000 pounds.

San Francisco Officials Vow to Ride Public Transit for 22 Days

SAN FRANCISCO - Members of the San Francisco Board of Supervisors and Mayor Ed Lee have accepted a challenge to ride public transportation daily for the next three weeks in order to better understand the frustrations and joys that residents experience on San Francisco Municipal Railway on a daily basis, according to a KRON4 report.

The challenge, spearheaded by the advocacy group San Francisco Transit Riders, will continue until June 22 and aims to help city officials gain familiarity with public transit and inspire them to improve the experience.



Participating officials will tweet while riding, walking to, or waiting for transit every day for those 22 days.



San Francisco Mayor Edwin Lee posted this photo of himself on his Twitter feed Monday. Courtesy Mayor Edwin Lee.

They'll post to Twitter with an optional photo, using the hashtag #OnBoardSF. If they don't take transit for one of those days, they will tweet their reason why with the same hashtag.

The challenge runs from Monday, June 1st to Monday, June 22nd, one day for each of the years since 1993 when San Francisco voters passed Proposition AA: "City officials and full-time employees [shall] travel to and from work on public transit at least twice a week." 22 years later, this policy agreement has never been acted on, and now is a chance to make up for lost time!

| | |
| --- | --- |
| When they regularly ride public transit, city officials better understand the rider's daily experience and prioritize funding and planning a more reliable, robust, and visionary transit system to support it. READ MORE > | |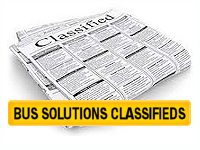 FOR SALE

Used ACC walk around brush washer. New gearbox, new brushes, 3 phase motor.

Clean them up quick and get them back on the road

. Call Jerry @ 615-417-3951.
Used DIESEL POWERED brush washer. Great shape. PERFECT for REMOTE BUS WASHING !! Call Jerry @ 615-417-3951 for more details. Don't wait, these will be gone quick !!!!
Bus Weekly Classified Ads
We'll be offering an all
new Classified Ads section
starting next week
in Bus Weekly!
Contact Us Today
for Classified Ads Placement and Sizes!