ABC Companies Appoints Joe Lunny
ABC Companies has announced the appointment of Joe Lunny as Transit Bus and Service Sales Specialist for the Eastern Region of the US.

Lunny brings more than 25 years of bus sales and management experience, most of that time serving the transit bus industry along the East Coast.

Prior to joining ABC, he served as Southeast Regional Sales Manager at New Flyer Industries. He held the position of Vice President, Sales and Marketing for two bus dealerships, and was the Owner and CEO of the first commercial-only Blue Bird bus dealership in New England.
Lunny will be serving customers east of the Mississippi River, working with industry veteran Jim Morrison who manages the Western Region. They are teamed with two dealerships in the sales and service of New Flyer transit buses: DATTCO Inc., based in New Britain, CT, will cover the New England states, while Creative Bus Sales' territory is Texas and Oklahoma.

ABC has an agreement with New Flyer Industries Inc. to serve as US distributor of New Flyer's MiDi® and Xcelsior® transit buses to private bus and shuttle operators. New Flyer is the North American transit bus market leader, maintaining relationships with over 250 transit authorities, including 20 of the 25 largest systems. ABC sells and supports the low floor transits through its established service locations and select independent dealerships. . With this new relationship with ABC Companies, New Flyer now offers proven transit buses to the private market.

ABC Companies is a leading provider to the transportation industry with diverse product and service offerings that cover a full spectrum of operational needs including new and pre-owned full size highway coach equipment, mid-size shuttle transport vehicles, and advanced design heavy duty transit equipment. ABC supports customers with a comprehensive after sale service network for service and repairs, collision services, extensive OEM and quality aftermarket parts needs for transit, motorcoach and heavy-duty equipment from nine strategically placed locations throughout the U.S. and Canada. Additionally, private and municipal financing and leasing options are available through the company's financial services group - one of the largest financial service providers within the industry. For more information, contact ABC Companies at 800-222-2875 or visit the company web site at www.ABC-Companies.com.
FTA awards Florida BRT project $26M grant
The Federal Transit Administration (FTA) announced the award of approximately $26.6 million in federal grant funds for the Jacksonville Transportation Authority's (JTA) North Corridor bus rapid transit (BRT) Project, which will provide more frequent and faster bus service to attract new riders and provide a needed transportation option in a heavily transit-dependent region.

The 9.4-mile North Corridor line is the second segment of a five-phased First Coast Flyer BRT system planned for the Jacksonville area.


The new service will connect to the first BRT line in downtown Jacksonville now under construction, and extend north to Interstate 295. It will also connect to the future Southeast Corridor and serve major employment centers, Florida State College at Jacksonville, UF Health Jacksonville, parks and regional shopping centers.

The FTA is contributing 80% of the $33.2 million total cost of the North Corridor project, including $20.2 million from FTA's Small Starts Capital Investment Grant Program and $6.4 million in FTA Bus and Bus Facility funds. The remaining project costs are being covered by the Florida Department of Transportation and JTA.... READ MORE >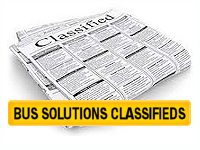 FOR SALE

Used ACC walk around brush washer. New gearbox, new brushes, 3 phase motor.

Clean them up quick and get them back on the road

. Call Jerry @ 615-417-3951.
FOR SALE

Used DIESEL POWERED brush washer. Great shape. PERFECT for REMOTE BUS WASHING !! Call Jerry @ 615-417-3951 for more details. Don't wait, these will be gone quick !!!!
Bus Weekly Classified Ads
We'll be offering an all
new Classified Ads section
starting next week
in Bus Weekly!
Contact Us Today
for Classified Ads Placement and Sizes!