University of Georgia officials consider going electric
University of Georgia bus stops might soon become considerably less noisy and more environmentally friendly. UGA officials are considering replacing part of the university's bus fleet with electric buses.

Such a bus visited the UGA campus Monday and Tuesday as a kind of demonstration while on a promotion tour throughout the Southeast.

With a couple of exceptions, driving the 40-foot New Flyer Xcelsior was just about like driving any other UGA bus, reported student driver Dustin Tilley, who drove the bus on the UGA orbit route Monday. "It was a lot quieter," Tilley said. The only sound on a test ride Tuesday was the blast of the air conditioner in Athens' 90-degree heat.

The electric bus also had a smoother rider (sic), he said, mainly because the big electric machine requires less braking. The engine acts as a brake when the vehicle slows down, and even stores energy in the big battery during braking, he explained. "It doesn't kick in quite as hard," said Tilley, who thought students would like electric buses as it produces no carbon dioxide emissions.

"It was a pretty nice ride," said UGA campus transit director Ron Hamlin. "It was smooth and quiet. There was no engine noise at all."

UGA could buy 16 of the vehicles if the federal Department of Transportation approves an $11.5 million UGA grant application, Hamlin said. UGA would add $5 million to the grant. UGA could retire most of the pre-2007 buses in its 57-bus fleet, Hamlin said.

That would help reduce the amount of pollution the buses put into the air. Under new federal regulations that went into effect beginning in 2007, newer diesel buses are much less polluting, he said. The buses, the same size as ones in UGA's fleet of diesel-powered buses, are expensive - between $750,000 and $800,000. But they'd pay for themselves in about 10 years through reduced fuel costs. The electricity cost would be about six to seven cents per mile vs. $1 per mile for diesel-powered buses, Hamlin said.

About 100 electric buses from New Flyer and other companies are in use or on order in North America, said New Flyer Director of Sustainable Transportation David Warren. A handful of New Flyer buses are already in use in Chicago and Winnipeg, said Warren, part of a crew that will take the bus on to Macon, Tallahassee, Birmingham and Dallas after its stop in Athens. If UGA's grant wins approval, electric buses might start roaming UGA routes in the 2017 fiscal year.
Greyhound Launches Real-Time Bus Tracking System
Greyhound, the largest provider of intercity bus transportation in North America, announced the launch of BusTracker — a new real-time GPS tracking system that allows customers to see where their bus is, and when it will arrive at their destination.

Customers can access BusTracker by visiting Greyhound.com and searching by schedule number, departure city or arrival city for updates. Automatically updating every one to four minutes, BusTracker pulls data from three tracking systems installed on all of Greyhound's buses to provide the latest schedule status for customers. For those using a smartphone, BusTracker will be available at the end of June on both Apple and Android devices.


The launch of BusTracker is the company's latest enhancement designed to improve and personalize customers' experience following a rollout of several transformational investments, including the completion of the company's fleet upgrade of more than 1,200 buses.

All buses now feature modern amenities, such as free onboard Wi-Fi, power outlets, leather seats, extra legroom and access to OnTouch®, an onboard catalog of destination packages that allows customers to purchase tickets to theatrical events, popular attractions and ground transportation offers. Other features, such as guaranteed seating and $1 fares on Greyhound Express routes, have also reintroduced the brand as an affordable, modern travel option, according to the company.

"We are dedicated to making our customers' experience with us as simple and as easy as possible. We are excited to launch a system that takes the uncertainty out of bus travel," said Andy Kaplinsky, chief commercial officer, Greyhound Lines Inc. "With BusTracker, our customers can relax and enjoy their trip with bus status information at their fingertips." In celebrating its 100th anniversary last year, Greyhound launched a multi-city Centennial Tour to broadly showcase its latest advancements. In order to continue this momentum, Greyhound continues to further develop its technology solutions and make improvements that will result in a better experience for travelers.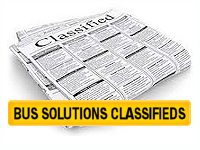 FOR SALE

Used ACC walk around brush washer. New gearbox, new brushes, 3 phase motor.

Clean them up quick and get them back on the road

. Call Jerry @ 615-417-3951.
FOR SALE

Used DIESEL POWERED brush washer. Great shape. PERFECT for REMOTE BUS WASHING !! Call Jerry @ 615-417-3951 for more details. Don't wait, these will be gone quick !!!!
Bus Weekly Classified Ads
We'll be offering an all
new Classified Ads section
starting next week
in Bus Weekly!
Contact Us Today
for Classified Ads Placement and Sizes!