Transit Contractors Leveraging Tech
Transit Contractors Leveraging Tech to Help Fleets Work 'Smarter'

METRO Magazine spoke with four transit
contractors to find out what is new in their industry, how technology is helping to shape the game, and talk about the innovations they are employing with their latest contracts.



National Express

National Express offers a wide variety of contracts throughout the U.S. It provides turnkey operations management for fixed-route and commuter transit

systems, paratransit programs, demand-response transportation, and other public or private shuttles. These services are in addition to very similarly operated student transportation services the company provides to hundreds of school districts across North America. Customer service for the company has always been a top priority, particularly as more agencies explore contracting services.

Gary Waits, CEO, explains his division has retained every contract since its inception in part because of the implementation of technology.

"It touches everything we do now, safety, operations, maintenance, customer service. Staying on the cutting edge of identifying new technologies and making them work to meet our customers' needs is a new part of the business and one we do very well," Waits says.

More specifically, Waits says the company has seen a lot of success with business automation and tracking tools. "We are leveraging the convenience of mobile devices and ruggedized tablets to record and track everything from pre-trip inspections to incident responses. Today is a 'right now' world, so we are adapting to collect and share information as quickly as the events occur."

The current focus, Waits explains, comes via the paratransit market. As aging Americans live longer, they continue to influence growth in demand for paratransit services. Waits refers to this trend of retirees requiring more transit options as the "silver tsunami."

This trend, of course, is not without challenges. Waits explains that the biggest challenges continue to be doing more with less, particularly for paratransit operations. Balancing the reality of limited budgets with increasing customer service requirements, however, is National Express's specialty. READ MORE >>
Study: 1.3 million will travel by bus over July 4th holiday
A long holiday weekend, budget fares and the convenience of a new GPS tracking system will draw more than 1.3 million passengers to intercity bus travel during the July Fourth holiday, according to the Chaddick Institute for Metropolitan Development at DePaul University.

Researchers forecast a 6% increase in ridership compared to this time last year.

"Summer is already a busy time for bus travel, but this holiday may bring record-setting volumes," said Joseph Schwieterman, director of the Chaddick Institute.


"Buses are the mode of choice for many travelers on short trips, particularly on routes of five hours or less."

The Chaddick Institute presents this data to offer comparisons with air and automobile travel during major holidays. Highlights from the report include: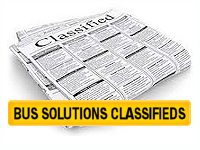 FOR SALE

Used ACC walk around brush washer. New gearbox, new brushes, 3 phase motor.

Clean them up quick and get them back on the road

. Call Jerry @ 615-417-3951.
FOR SALE

Used DIESEL POWERED brush washer. Great shape. PERFECT for REMOTE BUS WASHING !! Call Jerry @ 615-417-3951 for more details. Don't wait, these will be gone quick !!!!
Bus Weekly Classified Ads
We'll be offering an all
new Classified Ads section
starting next week
in Bus Weekly!
Contact Us Today
for Classified Ads Placement and Sizes!