BusCon Returns to Indy
On Sept. 28 to 30, 2015 in the Indiana Convention Center of Indianapolis, thousands of bus industry professionals will converge for the biggest bus convention in North America. Each year, more and more people look forward to BusCon as a chance to network, learn about new trends and technology, and gain the tools that are necessary to revitalize the way they tackle their own operations.

BusCon offers educational sessions that are specifically geared towards public transit, tours and charter, limousine and courtesy shuttles.

Session topics include: the utilization of social media to grow your following and engage your audience, building team skills to have an efficient transportation system, prevention of costly incidents and limiting your risk and liability, incorporation of alternative fuels and innovations that have had a positive impact at operations nationally.

Mark Aesch, CEO of TransPro, a management consultancy that guides transit systems, will be delivering the Keynote Address on Tuesday, Sept. 29 from 11:00am to 12:00pm. His presentation on "Driving Excellence" will provide both inspiration and information on how to reform cultures, motivate teams to be more efficient and turn customer service to customer satisfaction.

The exhibit hall will be open Tuesday, 12:00pm to 5:00pm and Wednesday, 10:00am to 2:00pm. Attendees will be able to see a display of more than 60 buses of all shapes and sizes, as well as the latest technology from manufacturers.

The BusCon Ride & Drive will also give attendees the chance to experience new vehicles, connect through activities like the BusCon Night on the Town at Slippery Noodle Inn and participate in the awards ceremony. The pre-registration deadline for BusCon is August 28, 2015. Read more info on the BusCon Expo web site.
Are Increased Motorcoach Inspections Missing the Point?
In testimony submitted to the House Committee on Transportation and Infrastructure's subcommittee on Highways and Transit in April, the American Bus Association (ABA) said because the current federal/state partnership for motorcoach inspections was "broken" passengers are being put at risk.

Aside from also submitting a list of recommendations, including the establishment of a bus inspection program in every state that includes training for, and testing of, inspectors specifically for motorcoaches, several issues were exposed that are shared by motorcoach operators around the country. READ MORE >>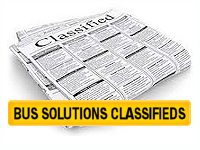 FOR SALE

Used ACC walk around brush washer. New gearbox, new brushes, 3 phase motor.

Clean them up quick and get them back on the road

. Call Jerry @ 615-417-3951.
FOR SALE

Used DIESEL POWERED brush washer. Great shape. PERFECT for REMOTE BUS WASHING !! Call Jerry @ 615-417-3951 for more details. Don't wait, these will be gone quick !!!!
Bus Weekly Classified Ads
We'll be offering an all
new Classified Ads section
starting next week
in Bus Weekly!
Contact Us Today
for Classified Ads Placement and Sizes!