MARTA's Parker named '2015 Outstanding Public Transportation Manager
The American Public Transportation Association (APTA) has selected MARTA's GM/CEO Keith T. Parker, AICP, as the 2015 Outstanding Public Transportation Manager.

This highly prestigious award is in recognition of Parker's major accomplishments at MARTA and his contributions to the public transportation industry during his two decade career.


"I'm deeply humbled to be recognized by APTA's selection committee for this honor," Parker said. "This is a high point in my career and I'm grateful for the opportunities to serve that the public transportation industry has provided me. I want to thank the MARTA Board of Directors, our staff and our customers for their wonderful support and guidance."

Michael Melaniphy, APTA President/CEO, extended kudos to Parker for the award.

"This is a very significant award that is given only to those individuals who have excelled in leading public transportation systems," Melaniphy said. "I offer my congratulations to Keith. His record in managing four public transit systems has demonstrated his innovative leadership that has positively transformed each of these agencies. He is truly worthy of national recognition."

"Hiring Keith Parker is one of the best decisions MARTA's ever made," said Robert L. Ashe III, chairman of the MARTA board of directors. "His optimistic leadership, fiscal discipline, and relentless pursuit of excellence in matters both big and small have helped MARTA re-emerge as a transit system to be reckoned with. On behalf of my colleagues on the MARTA Board, congratulations Mr. Parker. Keep up the great work." READ MORE >>
University of Michigan to open automated vehicle test site
It's been years in the making, but on July 20, the University of Michigan will open MCity, its one-of-a-kind test site for connected and automated vehicles located on the school's North Campus Research Center.

MCity is the university's 32-acre simulated urban and suburban environment which features roads with intersections, traffic signs and signals, streetlights, building facades, sidewalks and construction obstacles.



"Connected and automated vehicle technology will usher in a revolution in the mobility of people and goods comparable to that sparked by the introduction of the automobile a century ago," Peter Sweatman, director of U-M's Mobility Transformation Center, said earlier this year.

The Mobility Transformation Center is a public-private partnership between the university and companies including Delphi Automotive, DENSO Corp., Honda, Ford, General Motors, Toyota, Xerox and others. The MTC is responsible for the development of MCity.

A key goal of the MTC initiative and MCity is to implement a connected and automated mobility system on the streets of southeastern Michigan by 2021.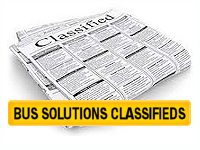 FOR SALE

Used ACC walk around brush washer. New gearbox, new brushes, 3 phase motor.

Clean them up quick and get them back on the road

. Call Jerry @ 615-417-3951.
FOR SALE

Used DIESEL POWERED brush washer. Great shape. PERFECT for REMOTE BUS WASHING !! Call Jerry @ 615-417-3951 for more details. Don't wait, these will be gone quick !!!!
Bus Weekly Classified Ads
We'll be offering an all
new Classified Ads section
starting next week
in Bus Weekly!
Contact Us Today
for Classified Ads Placement and Sizes!