Clever Devices acquires software maker RSM Services Corp.
Clever Devices has acquired RSM Services Corp., the maker of Ridecheck Plus software.

RSM is a leading provider of transit ridership reporting software. The purchase follows Clever Devices' 2012 acquisitions of Digital Recorders and Greyhawk Technologies.

"This is very exciting news for us," said Frank Ingrassia, president/CEO of Clever Devices. "Passenger counters were one of our earliest products and this investment demonstrates our ongoing commitment to delivering the best technology available. RSM has had the same commitment for almost thirty years and we are delighted to work with this team to further improve the solutions we offer."

RSM Services is based in Houston and currently provides its Ridecheck Plus software to more than forty transit agencies throughout North America. Ridecheck Plus processes data from automatic passenger counters to provide agencies the information they need for reporting as well as making sound business decisions.

Planners, schedulers and managers use Ridecheck Plus to improve service and efficiently allocate resources. Ridecheck Plus provides boardings, alightings, patron loads, passenger miles, on-time adherence, running times and other measures to gauge performance and productivity.

"Our company is a very strong cultural fit with Clever Devices," said Rich Ruskan, Founder/CEO of RSM Services. "Both organizations are industry leaders and have similar emphases on customers, employees, innovation, and excellence." The acquisition of RSM Services continues the expansion of Clever Devices' product offerings and commitment to providing leading products to its customers.

Clever Devices develops technology solutions for all modes of transit. ITs comprehensive product line includes highly innovative, state-of-the-art technologies such as CAD/AVL, AVM, BusTime, AVA, APC, TurnWarning, Infotainment and Business Intelligence tools.

Prototype Solar Power-Assist for Buses

As reported in Alternate Energy News:

Sunpods Inc., a California-based manufacturing company, produces modular, fully integrated and tested solar power generation systems. Recently, they have come out with an idea of the first solar power-assist system for buses. They should be applauded for developing it in a mere six weeks.

Sunpods Inc. has partnered with Bauer Intelligent Transportation, and the system developed by Sunpods will help Bauer to meet strict anti-pollution standards laid down by the State of California. California state law since 2008 has disallowed diesel vehicles to remain idle for more than five minutes. Now, more than 25 states across the United States have anti-idling laws.

Gary Bauer, founder and owner of Bauer's Intelligent Transportation says, "We support the state's strong commitment to reducing pollution. At the same time, as a transportation provider, we wanted to meet... READ MORE >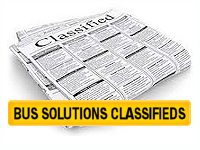 FOR SALE

Used ACC walk around brush washer. New gearbox, new brushes, 3 phase motor.

Clean them up quick and get them back on the road

. Call Jerry @ 615-417-3951.
FOR SALE

Used DIESEL POWERED brush washer. Great shape. PERFECT for REMOTE BUS WASHING !! Call Jerry @ 615-417-3951 for more details. Don't wait, these will be gone quick !!!!
Bus Weekly Classified Ads
We'll be offering an all
new Classified Ads section
starting next week
in Bus Weekly!
Contact Us Today
for Classified Ads Placement and Sizes!