RoadRunner Adds Eight New Van Hool CX45s

ABC Companies announces that Roadrunner Companies, based in Euless, Texas, has added eight new Van Hool CX45s to their fleet.

The CX45s are equipped with Allison (Gen4) B500 Six-Speed Automatic transmissions, wood grain flooring, Alcoa DuraBright Aluminum wheels and Van Hool's exclusive contoured parcel racks, including REI Elite Video Systems with 22" video monitors.

Roadrunner serves the Dallas/Ft Worth market with 88 buses, offering charters to destinations throughout the US and Canada. Beginning with a single small bus in 2001, CEO Ron Wills' passion has expanded the company into one of the largest and most modern carriers in the region.

"Ron Wills and the Roadrunner family continue to be market leaders in our industry," says ABC Account Manager, Zane Gray. "They're long term thinkers and have been extremely successful in managing their acquisitions and growth. All of us at ABC are extremely grateful for their loyalty and our strategic partnership."
U.S. Commuters: 7 billion hours sitting in traffic
As reported in Metro Magazine/Metro Express, traffic congestion in the U.S. has returned to pre-recession levels, with Washington D.C. topping the list, according to a new report produced by INRIX and the Texas A&M Transportation Institute (TTI).

The 2015 Urban Mobility Scorecard reported that travel delays due to traffic congestion caused drivers to waste more than 3 billion gallons of fuel and kept travelers stuck in their cars for nearly 7 billion extra hours - 42 hours per rush-hour commuter..


The total nationwide price tag:
$160 billion, or $960 per commuter

Washington, D.C. tops the list of gridlock-plagued cities, with 82 hours of delay per commuter, followed by Los Angeles (80 hours), San Francisco (78 hours), New York (74 hours), and San Jose, Calif. (67 hours).

The problem has become so bad in major urban areas that drivers have to plan more than twice as much travel time as they would need to arrive on time in light traffic just to account for the effects of irregular delays such as bad weather, collisions and construction zones.

For example, drivers on America's Top 10 worst roads waste on average 84 hours or 3.5 days a year on average in gridlock - twice the national average. Of these roads, six are in Los Angeles, two are in New York and the remaining two are in Chicago. Nine other cities have roads ranked among the 50 worst.

Scorecard findings also illustrate how traffic congestion isn't just a big-city issue. Cities of all sizes are experiencing the challenges seen before the start... READ MORE>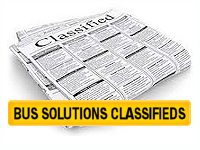 FOR SALE

Used ACC walk around brush washer. New gearbox, new brushes, 3 phase motor.

Clean them up quick and get them back on the road

. Call Jerry @ 615-417-3951.
FOR SALE

Used DIESEL POWERED brush washer. Great shape. PERFECT for REMOTE BUS WASHING !! Call Jerry @ 615-417-3951 for more details. Don't wait, these will be gone quick !!!!
Bus Weekly Classified Ads
We'll be offering an all
new Classified Ads section
starting next week
in Bus Weekly!
Contact Us Today
for Classified Ads Placement and Sizes!