BusCon 2015 takes Indy by Storm - By Metro Magazine
BusCon marked its return to Indianapolis bigger and better this week, bringing with it the latest in information, technology and vehicles.

The show kicked off on Monday with the informative "Turn Millennials into Customers" session with Porschia Parker, founder of Fly High Coaching and the Millennial Performance Institute, who discussed the growing number of millennials and the spending power they bring as well as how it will impact the entire bus industry in both the long-term and short-term future.
Piggybacking on many of Parker's important points, including millennials' staggering reliance on smartphones and other technologies, Eric Elliott, GM BusRates.Com, discussed how motorcoach operators could best use social media to attract millennials, as well as other generations.

Elliott encouraged attendees to commit to whatever type of social media they choose, and once they make that choice, to post consistently. He also encouraged engagement versus outright marketing, with the main goal to give potential customers enough information that they will be encouraged to visit the company's website to not only find out more information but to also possibly book their trips. Along with Parker's point of millennials using many different types of technology, Elliott also encouraged the crowd to invest in a responsive website that will work on a smartphone, tablet or computer.



TransPro CEO Mark Aesch gave the keynote speech, titled "Driving Excellence".

Aesch, TransPro CEO and former head of N.Y.'s Rochester Genesee Regional Transportation Authority (RGRTA), discussed how President Ronald Reagan's call for the dismantling of the Berlin Wall and President John Kennedy's goal of landing a man on the moon were great of examples of finding success through stating a clear goal as well as setting a template to not only attain that goal but also get all involved to take ownership of the task at hand.

TransPro CEO Mark Aesch
Aesch spoke about how his seven steps to success helped him not only develop a new culture at RGRTA, but also reverse a huge deficit, resulting in the almost unheard of lowering of fares for customers.

Meanwhile on Wednesday, an informative session on how technology is transforming the bus industry, featuring Rally Bus' Numaan Akram and Bridj's Matthew George, resulted in a lively discussion with attendees and possibly even some future business for some operators.

There was also much to see on the sold out show floor, which included more than 50 new exhibitors and more than 70 vehicles, with several new offerings.

Micro Bird Commercial, manufacturer of small commercial buses, announced at BusCon that it has grown its product line, which included the launch of the CT-Series, offering a new design with more visibility and a more comfortable driver's area. Additionally, the company unveiled its D-Series' new configuration for up to 28 passengers (expanded coverage to come).

ABC Companies debuted the new Van Hool CX35 model. This 35-foot vehicle shares a nearly identical design with the 45-foot CX45, with many commonly used parts and components that can drive some high-value benefits to operators (expanded coverage to come).

BYD featured a new 23-foot version of their all-electric bus, which was decked out in luxury with comfortable seating and a full audio/video system. The company also had a slightly larger version of its vehicle available during the BusCon Ride & Drive.

Karsan showcased its brand new Jest CS vehicle – a low-floor, purpose-built 19.6-foot minibus, which seats up to 15 people, is ADA-compliant and has a 22-foot turning radius.

INDBUS also debuted new vehicles on the market, including the FS2 – a 37-foot vehicle featuring a Cummins/Allison drivertrain; a stainless steel structure with composite exterior and a bode-style entrance door.

Watch for more news on BusCon 2015 in future issues of Bus Weekly!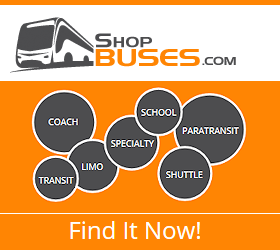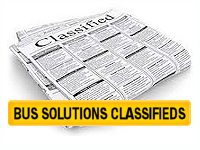 Bus Weekly Classified Ads
Contact Us Today
for Classified Ads Placement and Sizes!