FAST Act to spur transportation infrastructure improvements

The recently enacted Fixing America's Surface Transportation (FAST) Act will provide stability and predictability for state and local governments as they undertake improvements to the nation's transportation infrastructure, according to WSP | Parsons Brinckerhoff, one of the world's top engineering and professional services consulting firms and a leader in the U.S. transportation industry for more than a century.

The FAST Act authorizes $305 billion in funding for federal surface transportation programs for fiscal year (FY) 2016 through FY 2020 with funding for 2016 at $58.2 billion, which is $3.6 billion or 6.6% above 2015 levels. The bill ends a long period of flat federal funding and provides for growth at a rate of 3.2% from 2015 to 2020.

"The FAST Act provides modestly enhanced levels of funding to improve highways, bridges, transit systems, and passenger rail, and has broad implications for the nation's economy and environment," said Greg Kelly, president/CEO of the U.S., Central and South America region of WSP | Parsons Brinckerhoff. "When combined with recent state and local increases, overall funding for transportation capital investment in the U.S. will experience real growth for the first time since 2010."

According to Kelly, the legislation will have a positive and balanced impact on funding levels for all states and across modes of surface transportation. "Higher federal funding levels will enable state departments of transportation and transit agencies to invest in critical new capacity and capital maintenance projects," he explained. "Just as important, the FAST Act will provide much-needed funding predictability and stability, making large, complex projects more feasible."

Highlights of the legislation include:

Ninety-two percent of funding authorized in the FAST Act is "contract authority" and does not require appropriations. The bill does not include any project earmarks but continues and expands the use of competitive grant programs.
CCW delivers converted electric bus to California agency

Complete Coach Works (CCW) announced the completion of a project to convert a gasoline-hybrid bus operated by Gardena Municipal Bus Lines (GTrans) to CCW's Zero Emission Propulsion System (ZEPS), an all-electric battery-powered engine.

After the ZEPS bus was delivered in late September, Gardena received a California Energy Commission grant to upgrade four more of its hybrid buses to electric.

Gardena selected CCW, once again, to convert the buses to ZEPS in a project expected to begin early next year, said Kevin O'Brien, project manager for CCW. "Gardena has been very impressed with the new bus," O'Brien said. "It has been in service every day and they are really happy."

Switching to the ZEPS drive system entails dismantling the bus down to the chassis, then installing all new mechanical parts as well as new flooring, seating, power steering, HVAC and low-rolling resistance tires. The ZEPS engines have a range of about 130 miles and require about five hours to recharge the batteries.

"The bus is great," said Anthony Cohen, facility and maintenance manager for GTrans. "The only problem may be convincing the driver to give other operators a turn behind the wheel of the electric bus."

Gardena Municipal Bus Lines may be the only transportation agency in California operating with all gasoline/electric hybrid buses. "Certainly we're one of the few and we are evaluating if the fleet should go all electric," Cohen said.

The ZEPS conversion is just one of several projects GTrans has collaborated on with CCW.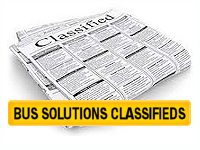 Bus Weekly Classified Ads
Contact Us Today
for Classified Ads Placement and Sizes!