Tech Expert Goss - Former Q'Straint sales, passes away

John Goss, a former Sales and Technical Expert with Q'Straint passed away January 3, 2016.

A Vietnam veteran, Goss retired from the U.S. Air Force as a Chief Master Sargent. When he returned to the states, Goss accepted a position as Director of Transportation & Facilities for Marana Schools in Tucson, Ariz., before opening Goss Enterprises. Goss is survived by his loving wife of 60 years, Janine, two sons, seven grandchildren, and three great grandchildren. He earned countless awards and acclamations from local, state and federal levels over his many careers, including nominations for outstanding Air Force Noncommissioned Officer of the Year for Transportation and the Star Award. He was also twice elected as the Director of the Arizona Department of Transportation.
RTC's new mobility center provides free public transit training

From Metro:



The Regional Transportation Commission of Southern Nevada (RTC) and local officials celebrated the grand opening of the RTC's new Mobility Training Center (MTC) on January 7, 2016.

The MTC is designed to increase mobility among Southern Nevadans, especially senior residents and persons with disabilities, by equipping them with the skills and knowledge necessary to use public transportation throughout Clark County, according to officials.

With the MTC now open, RTC specialists can teach clients how to use publictransit safely and efficiently in a contained environment that simulates the outdoors. The RTC provides free transit mobility training in a group or one-on-one setting to local residents.

"This state-of-the-art facility located right here in Southern Nevada is the only one of its kind in the West because it's a unique blend of mobility training, Paratransit certification, and blindness skills training," said Clark County Commissioner and RTC Chairman Larry Brown. "This is instrumental because it gives mobility and accessibility options to the young, senior citizens and persons with disabilities."

Within the 14,700-square-foot building are two working buses situated on a simulated streetscape that includes... READ MORE >

Bomb threat halts SLO Transit bus service

From The Tribune:



Police detained Marcus Henry Karr, 33, on suspicion of making threats on a city bus. Karr was videotaped handing out a flier mentioning a "preemptive war" against "witches," "Satanists" and "devils"

A Cal Poly student was detained and questioned Wednesday after he was accused of making vague and rambling statements about bombs on SLO Transit buses early Wednesday morning.

San Luis Obispo police and SLO Transit staff halted all bus service throughout the day as they examined each bus for possible explosive devices or other threats. READ MORE >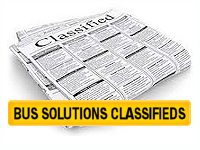 Bus Weekly Classified Ads
Contact Us Today
for Classified Ads Placement and Sizes!