UMA Expo 2016 In Progress!

From Net Forum:



The United Motorcoach Association ("UMA") was founded in 1971 as the "United Bus Owners of America". Current membership now includes over 900 motorcoach companies.

Another 250 motorcoach manufacturers, suppliers and related businesses are currently "Associate" members of UMA.

Headquartered in Alexandria, VA, across the Potomac River from Washington, DC, UMA serves the informational, legislative, regulatory and business needs of its member companies. Within the membership, companies range from one and two vehicles to those with many hundereds of coaches; from small tour-specific companies to those performing intercity route service, charter and tour operations on a coast-to-coast scale. SEE SCHEDULE >

American Seating Unveils new Wayfarer prototype

From Metro:



American Seating unveiled a new prototype for its Wayfarer™ seating line at the 2016 UMA Motorcoach Expo in Atlanta.

American Seating introduced the Wayfarer recliner to the motorcoach market in January 2015. Along with a world-class design, Wayfarer offers a FMVSS/CMVSS compliant three-point belted option.

This year, American Seating is developing a new back option for Wayfarer focused on the private tour and charter market, and will exhibit this Wayfarer-TC prototype at the 2016 UMA Expo.

The Wayfarer-TC will feature a:

* Contoured, adjustable headrest, enhancing the user experience.

* Slim-line profile that allows passengers to stretch out and get comfortable.

* Tapered back shape that provides a more open-coach feel.

"The ergonomic design of the seat, accompanied with a number of flexible features, makes it the ideal choice for tour and charter operators and their customers," said Doug Oswald, director of marketing, transportation, at American Seating.

American Seating will also exhibit its Premier® seat at UMA. The award-winning Premier® is the only motorcoach seat that combines lap-shoulder belts with full compartmentalization. The seat's SafeGuard SmartFrame™ developed by American Seating provides belted and unbelted passengers with enhanced protection in the event of frontal crashes.

The company will exhibit at UMA in booth space 840 on Feb. 1 from 4:30 p.m. to 7 p.m., on Feb. 2 from 10 a.m. to 5 p.m., and on Feb. 3 from 9 a.m. to noon.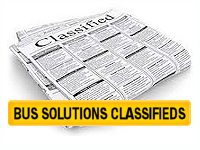 Bus Weekly Classified Ads
Contact Us Today
for Classified Ads Placement and Sizes!