Fans use VTA to get to Super Bowl 50

From Metro:



Close to 9,500 Super Bowl 50 fans safely made their way to Levi's Stadium on Valley Transportation Authority (VTA) light rail trains and buses. Approximately 60% of the passengers on light rail transferred from Caltrain coming from San Francisco.




VTA's mobile ticketing app, EventTIK, enabled Super Bowl goers to purchase their fare in advance to make riding public transit easy and convenient.

Hundreds of public safety officers, coordinated by the Santa Clara County Sheriff's Transit Patrol, secured the VTA system. Among the security detail were K-9 teams from across the country including Atlanta, Chicago, Seattle and Southern California to name a few.

VTA traditionally sees a small increase in the number of outbound passengers from Levi's Stadium. There will be another update at the end of service approximately two hours after the game ends.

READ MORE >

President's plan would provide $32.4B boost

From TheHill.com:



Obama to push $10-per-barrel oil tax for green transportation plan



President Obama will propose a $10-per-barrel fee on oil production to fund a new green transportation plan, the White House announced Thursday.

The proposal would go toward a $32.4 billion annual push to green the transportation sector by funding public transit.


Also included is an urban planning initiative and clean vehicle research, the White House said in a fact sheet. Obama will include the plan in the budget request he releases next week.

But the proposal represents a new front in Obama's climate change end-game: After finalizing carbon reduction regulations for the electricity sector last year, he is turning his attention back to the transportation sector, which accounts for 30 percent of American carbon emissions every year.

"The president's plan does what we need to once again have a transportation system that is a source of American strength while at the same time taking steps to reduce carbon emissions and fight climate change," Jeff Zients, the director of the National Economic Council, told reporters Thursday.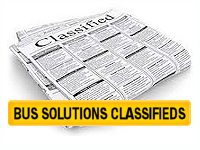 Bus Weekly Classified Ads
Contact Us Today
for Classified Ads Placement and Sizes!