International LCT Show Going on NOW

International LCT Show

Going on Now! Host Hotels:

Mandalay Bay Resort and Casino/ Delano Las Vegas
3950 S Las Vegas Blvd, Las Vegas, NV 89119

Luxor Las Vegas
3900 S Las Vegas Blvd, Las Vegas, NV 89119

Access to over 3,000 operators

Three days of show hall hours.

The exclusive opportunity to make your pitch. Non-exhibiting suppliers are not permitted to make sales efforts at the show.

After hall hours access to customers through our famed receptions, parties, keynotes and seminars.

More than 100,000 impressions in pre-show marketing pieces and on the show's website.

Complimentary registrations (depending on booth space size).

A post-show attendee roster including name, company and state.

And more!

See the VanHool CX35 on display from ABC Companies!

New round of TIGER grants makes $500M available

From Metro:



U.S. Transportation Secretary Anthony Foxx announced $500 million will be made available for transportation projects across the country under an eighth round of the highly successful Transportation Investment Generating Economic Recovery (TIGER) competitive grant program.



"The TIGER program funds vital transportation projects that provide real benefits to communities all across the country.

Every year, we see hundreds of compelling applications that have the potential to improve people's access to economic opportunities, make people safer and improve their well-being." said Secretary Foxx. "I am proud that for seven rounds, TIGER has been able to make a valuable contribution to improving our nation's transportation infrastructure, and I look forward to this year's competition."

Like the first seven rounds, FY 2016 TIGER discretionary grants will fund capital investments in surface transportation infrastructure and will be awarded on a competitive basis for projects that will have a significant impact on the nation, a metropolitan area or a region.

The 2016 TIGER grant program will continue to make transformative surface transportation investments by providing improvements over existing conditions. The grant program will focus on capital projects that generate economic development and improve access to reliable, safe and affordable transportation for communities, both .... READ MORE >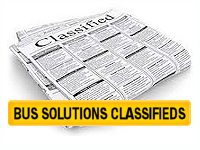 Bus Weekly Classified Ads
Contact Us Today
for Classified Ads Placement and Sizes!