ABC Companies Delivers to Royal Coach Tours

ABC Companies announces:

Royal Coach Tours, based in San Jose, CA, recently took delivery of two 38 passenger Van Hool CX35 coaches.

At Royal Coach Tours, Sandy Allen is President, with responsibility for finance, while Dan Smith is Vice President, handling maintenance of the growing fleet. Both grew up in the business as the company was founded in 1960 as "Smith Charter Bus Service" by Sandy and Dan's parents, Lee and Joanne Smith.

"Short buses are ideal for some of tight locations we serve. We were looking for lavatory equipped coach that offered the same level of comfort as our big motorcoaches. After visiting the factory, and seeing how these were built, they seemed like a fit." said Allen.

The new coaches are powered by Cummins ISL 9 liter engines driving through Allison B500 transmissions, and have chrome mirrors, wood grained floors, Grand Luxe black leather seating with cup holders and magazine nets, power outlets with USB ports, as well as a tour guide HDMI port station.

ABC Companies is Van Hool's exclusive US Distributor and their Senior Account Manager, Don Jensen, said "All of us at ABC are delighted to partner with such an outstanding, family-run company." For more information, contact ABC Companies at 800-222-2875 or visit the company web site at www.abc-companies.com.
Leduc named president Nova Bus, Prevost

Raymond Leduc has been named president of Nova Bus and Prevost.

He will be responsible for Nova Bus, Prevost and Volvo bus brands in Canada and the U.S. Leduc will lead the team behind these three brands to continue to expand and grow the business.

"Raymond Leduc represents a valuable addition to our team and I have full confidence that his experience, customer focus and leadership will significantly benefit the continued success of our threes brands in North America" said Ralph Acs, Senior VP, Volvo Buses, Business Region Americas.

Leduc brings to Volvo extensive experience, with over 30 years in various leadership positions, in international companies such as Bell Helicopter and IBM Canada. His appointment was effective Feb. 1, 2016 and he will be located in Saint-Eustache, Quebec, Canada.

Nova Bus is a provider of sustainable transit solutions in North America. Its portfolio includes hybrid electric buses, high-capacity vehicles and integrated intelligent transportation systems.

READ MORE >
U.S. DOT: Competition for transportation research grants

A maximum of $377.5 million in U.S. DOT funding will be available over five years for the University Transportation Centers (UTC) Program, including awards of up to $72.5 million for FY 2016.

This year, for the first time, two-year institutions of higher education are eligible to partner in the UTC consortia.

"At DOT we continue to transform government for the 21st Century by harnessing innovation, embracing technology.

This will improve people's lives," said U.S. Transportation Secretary Anthony Foxx. "Our Universities are at the forefront of solution-oriented research addressing America's changing demographics and increased freight volumes, and ensuring improved access to economic opportunity nationwide. We have some of the best universities in the world and I am calling on them to innovate and think big."

The work of UTCs will align with the Department's vision to move the U.S. "Beyond Traffic" and towards a 21st Century transportation system that... READ MORE >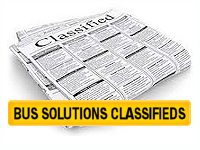 Bus Weekly Classified Ads
Contact Us Today
for Classified Ads Placement and Sizes!