Clean Energy wins $10M deal with New Jersey Transit

From Metro:

Clean Energy Fuels Corp., has won a $10 million, multi-year procurement from New Jersey Transit, the nation's third largest provider of bus, rail and light rail transit.

New Jersey Transit links major points in new Jersey, New York and Philadelphia to provide close to 223 million passenger trips each year. The procurement includes rebuilding a large compressed natural gas (CNG) fueling station, as well as additional garage modifications and the repair and maintenance of facilities through 2020. NJ Transit is expected to operate a fleet of 147 CNG commuter buses estimated to consume approximately 2 million gasoline gallon equivalents (GGEs) each year.

Clean Energy also signed other agreements across the transit markets, including the construction of new stations and extended maintenance and fueling contracts.



SP+, a provider of professional parking management, has signed a 5-year fueling agreement with Clean Energy to fuel 16 CNG buses for a new Consolidated Rent-A-Car facility located at the San Diego International Airport. The buses, owned by the San Diego Airport Authority, are anticipated to consume approximately 27,000 GGEs per month and will fuel with Redeem™, Clean Energy's renewable natural gas (RNG) derived from biomethane.


On Feb. 10, 2016, the Los Angeles County Metropolitan Transportation Authority opened its Division 13 facility, a $6 million private CNG fueling station built by Clean Energy. The new facility, which will be maintained by Clean Energy for the next 10 years, will fuel approximately 175 buses, which are expected to consume a total of 2 million GGEs of CNG annually.


Clean Energy extended its maintenance contract with Santa Cruz Metropolitan Transit District (Santa Cruz Metro) for an additional 5 years. The maintenance services support a station that fuels Santa Cruz Metro's 100 CNG buses used throughout the county.


Clean Energy customer MV Transportation was awarded a CNG bus contract with Los Angeles World Airports. The 14 CNG buses will fuel exclusively at Clean Energy stations.


The City of Long Beach recently announced the purchase of over 100 additional light- and medium-duty CNG vehicles that will fuel at two Clean Energy stations in the city.



Natural gas fuel costs less than gasoline or diesel, depending on local market conditions. The use of natural gas fuel also reduces greenhouse gas emissions up to 21%, according to Clean Energy. In addition, nearly all natural gas consumed in North America is produced in North America. READ MORE >
Arrow Stage Lines Grand Opening of Nevada facility

From Metro:


Arrow Stage Lines celebrated the grand opening of its newest facility located at 60 Corporate Park Drive in Henderson, Nev.

"This is a special day," said Arrow Stage Lines' President/CEO, Steve Busskohl. "We are so proud to announce our new home to the community of Henderson and the Las Vegas market."

The day began with a Driver Roadeo National Championship competition. The event consisted of written exams, driving courses and overall performance rankings. Drivers represented at the event, were the top finishers from each of their respective regions.

After crowning Henry Winter, from the Southwest Region, the National Champion, the event proceeded with the new location's official Ribbon Cutting Ceremony.

Family members, leadership team members, local Chamber of Commerce officials, vendors, friends, clients and team members were all present to help celebrate a historical moment for Arrow Stage Lines.

"This is a great opportunity to show the community of Henderson and the Las Vegas market our new, upgraded location," said Arrow Stage Lines' Pacific Region Operations Manager Jeff Howes. "The facility provides us with more space, better maintenance areas and provides us with the professional appearance our customers expect. "

Participants were able to enjoy tours of the new facility and pristine equipment, as well as horderves and conversations with Arrow team members, while enjoying "Vegas" flair. New MCI J coaches were on site, allowing attendees to experience the company's new Kiel seat and robust interiors.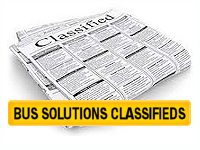 Bus Weekly Classified Ads
Contact Us Today
for Classified Ads Placement and Sizes!