AC Transit awards $108M contract for first BRT line

From Metro:

The Alameda-Contra Costa Transit District's (AC Transit) awarded an $108 million contract for the agency's first bus rapid transit line.

The contract, which includes construction of the infrastructure and station platforms, was awarded to O.C. Jones & Sons, an East Bay-based heavy civil construction and general engineering firm.

AC Transit's BRT will operate between downtown Oakland and San Leandro – primarily utilizing historic International Boulevard and East 14th Street. Construction of the 150-block transit service (that spans 9.5 miles) is slated to begin in May 2016 with service expected to begin in November 2017.

The new corridor will replace the portion of existing Line 1 Between 20th Street and Broadway in Uptown Oakland and the San Leandro BART station. The BRT service, operating inside a transit-only lane for most of the 9.5-mile route with stops at raised station platforms, will use new, environmentally friendly, diesel-electric hybrid buses. These low- CO² emission 60-foot articulated buses are manufactured in the U.S. by New Flyer. Each bus is specially designed with five-doors to quicken the boarding process.

Service features:


The service will make stops every five minutes during peak hours and every 10 minutes during off-peak hours
Stops are spaced an average of one-third of a mile
Transit signal priority extends green lights allowing the BRT to maintain its enhanced frequency
Interior bike racks will quicken the boarding of cyclist
Innovative wheelchair tie-down systems will reduce dwell time to secure passengers




"Bus Rapid Transits have reduced travel anywhere from 15 to 50 percent while improving transit reliability by up to 50 percent in several North American cities," said H. E. Christian Peeples, AC Transit Board President. "However, AC Transit's BRT goes further by encouraging bicycle travel thorough designated bike lanes and more foot-traffic by utilizing well-designed medians, shorter crossing distances, and pedestrian count-down signals. Ultimately the BRT's design makes the streets more pleasant to ride, stroll and shop."

The construction of the BRT was planned in three distinct projects. The first project, which has been completed, was a prep work project to relocate sewer and water lines typically adjacent to future station locations. The second project, which is about 50% complete, is a two-part effort to mitigate parking and traffic impacts identified during the environmental phase. Phase two involved the construction of two off-street parking lots, now completed, along..... READ MORE >
Will new FAST Act will power shift locally?
Publisher's Perspective from James Blue of Metro:





I've reviewed impacts of the new law that reauthorizes federal surface transportation assistance, the Fixing America's Surface Transportation (FAST) Act.

A combination of new provisions in the law, as well as relatively flat funding for the next five years, means the funding mix will shift to cities, regions and states. Combined with these new provisions, it could mean that the power will flow that way as well.


A shift in funding shares likely
As I mentioned last time, there is a 10.8% increase in funding authorized for the current year, which then virtually freezes at this year's level for the next four years afterward. Unless the political landscape changes somehow and the president gets his way on his proposed oil tax (or equivalent) to make the Highway Trust Fund whole, in five years, Congress must fill an even bigger funding gap than it had to close to fund the FAST Act. By some estimates, it could be more than $100 billion needed beyond expected gas tax revenues just to fund a bill at least as big as the FAST Act.

Many states and cities are already preparing for the uncertain funding at the federal level by increasing sales, property and fuel taxes on their own. It continues, perhaps even accelerates, a trend that began in the 1980s, when Reagan-era cuts prompted by local and state governments to act on their own. Today, only about 40% of all capital spending in public transportation is funded by federal sources, and with the FAST Act, the federal share is likely to drop further.

Some local ballot measures could be bellwethers in this context. Los Angeles County is planning for another ballot measure that could bring more than $100 billion to highway and public transportation over the next 30 years. Seattle is also looking to their voters for approval of a similar funding measure. These are just two of the largest that could be decided later this year; many others may follow throughout the country. Indeed, for the past quarter century, local and state voters have approved transportation measures at a rate (more than 70%) rivaled only by school and public safety measures.

New rules may accelerate trend
Beyond the funding patterns, new policies in the FAST Act may ..... READ MORE >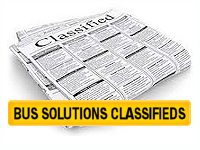 Bus Weekly Classified Ads
Contact Us Today
for Classified Ads Placement and Sizes!