The Remaking of the Motorcoach

From Metro:




The Remaking of the Motorcoach: Big Changes Redefine Intercity Bus Travel

Scheduled bus lines throughout the country appear ready for takeoff. That is, they are methodically adopting the qualities of airlines, with all the complexities and strategic challenges involved.


Dynamic scheduling, sophisticated pricing, reserved seating and even frequent traveler programs are giving the sector a makeover.

The heightened competition is bringing added turbulence to a once sleepy mode of travel and rapidly changing its public image. Recent changes in bus travel have been particularly fascinating to watch. Like airlines, carriers feverishly add routes when times are good and cut them when times are bad. After multiple cycles of growth and recession in service expansions and route enhancements between 2007 and 2014, the growth last year took a surprising turn, with innovation and new tech-related features rolling out at an impressive pace.

This innovation is the centerpiece of "The Remaking of the Motorcoach," the eighth annual review of the intercity bus industry by the Chaddick Institute at DePaul University. The big changes major carriers made in 2015 surprised our research team. As our co-author Matt Michel put it, "Intercity bus lines are using technology to win back customers who abandoned them years ago."

Greyhound on the move
Despite all the changes, Greyhound Lines remains the top dog, having nationwide coverage and large investments in premium Express service. Greyhound operates more than 1,200 schedules daily, twice as many as any other line. Rather than concentrating on new routes in 2015, the legacy line worked to improve their image and perception, starting with a revamped greyhound.com. The new website boasts a cleaner look than its predecessor, offering more detailed traveler itineraries and new ways to filter search results. Simplified fare options, each with different perks, are akin to that of Southwest Airlines.

Greyhound's newly unveiled BusTracker, which updates the approximate location of scheduled coaches in real time, became a trendsetter in the sector. This alleviates reliance on driver or loudspeaker announcements for updates. Both Greyhound and Megabus formed partnerships with Parking Panda, allowing motorists to reserve parking spots within walking distance of many terminals by using an app.
Uber and Lyft users more likely to use public transit
From Metro:





The more people use shared services like Lyft and Uber, the more likely they will use public transportation, a new study revealed. In fact, among those that use Lyft and Uber, 50% say they use a train and 45% report using a bus frequently.

In the study, "Shared Mobility and the Transformation of Public Transit," the study author's surveyed "shared use" or "ridesourcing" consumers in seven cities: Austin, Boston, Chicago, Los Angeles, San Francisco, Seattle and Washington, D.C. In addition, researchers conducted in-depth interviews with private ride-sourcing operators and public transit agency officials to understand the impact of new-tech mobility services.

In compiling the data, prepared for the American Public Transportation Association through the Transit Cooperative Research Program, researchers looked at the traveling habits of 4,500 people in seven cities.

"As the study shows, people who use public transit and these shared services are making a lifestyle change that results in more walking, less driving and greater household savings because of overall lower transportation costs." said APTA Chair Valarie J. McCall. "It is important that we provide options that complement and enhance our public transit service."

"The way people get around in communities is being transformed, and public transportation is at the heart of this formal shift," said APTA President/CEO Michael Melaniphy. "Together with companies like Lyft and Uber, we are integral to creating a dynamic multimodal lifestyle."

Using Uber and Lyft is a gateway to a car-lite lifestyle, with users owning fewer cars in a household, according to the study. The effects on vehicle ownership are even greater among frequent users of several shared modes, such as bikesharing, carsharing (e.g. Zipcar), and ridesourcing. These frequent shared users own nearly half a car less than a transit-only user - 1.5 versus 1.05 cars per household..... READ MORE >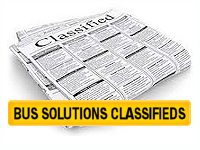 Bus Weekly Classified Ads
Contact Us Today
for Classified Ads Placement and Sizes!