FMCSA: Safety Measurement System's Website

FMCSA proposes enhancements to Safety Measurement System's public website

The Federal Motor Carrier Safety Administration (FMCSA) announced that a public preview of the latest proposed enhancements to the Compliance, Safety, Accountability (CSA) Safety Measurement System (SMS) website will be published in the Federal Register this week, to be followed by a 60-day public comment period.

As first outlined in a June 29, 2015, Federal Register notice these proposed enhancements are a continuation of the agency's longstanding efforts to provide law enforcement, the motor carrier industry, and motor carriers with more informative safety data.

While the Federal Register announcement responds to comments received following the June 29, 2015, notice, no changes will be implemented in the public SMS website display until after completion of the National Academies of Sciences Correlation Study as required by Section 5221 of the FAST Act.

Information on FMCSA's proposed enhancements to the public SMS website display — including two additional changes not originally proposed — will be provided to the National Academies of Sciences, as will all comments and analysis received following the 60-day public comment period.

FMCSA will hold four public online question and answer sessions, where participants will be able to ask questions about the preview and the proposed changes and receive real-time responses.

A copy of the Federal Register announcement, along with detailed information on the upcoming question and answer sessions, as well as further resource and reference materials, are available here.
U. of Wyoming enhances service with new buses, app featuret

With two new buses and a new "on-demand" feature on its mobile app, University of Wyoming Transit and Parking Services has enhanced its service to the thousands of UW students and employees who use the system each day.

Visitors to campus also may use the UW bus system, free of charge, from several free parking lots near campus.

Transit and Parking Services Manager Paul Kunkel says ridership, thus far this semester, is on par with the past three years.

They service about 4,500 weekday passengers riding buses to and from the multitude of stops on and around campus.

"Parking is always an issue on major university campuses, but we are fortunate at UW to have a system in place that makes our campus accessible to students, employees and visitors alike," Kunkel says. "Many people from Wyoming aren't used to hopping on a bus, but it's really quite easy, and we can get people to their destinations pretty quickly."

The new buses are 2017 model Gillig low-floor buses, 37 feet long, and with capacity for 32 seated passengers and many more standing. The new buses have clean diesel engines with very low emissions, and they feature exterior bike racks for those bringing their bicycles to campus.

The $400,000-buses - funded 80 percent by federal grants and 20 percent from UW's bus replacement fund - take the place of two 14-year-old buses that were in relatively poor condition. UW has a fleet of 27 buses and 11 minivans.

For all UW bus routes, riders are encouraged to use TransLoc, a.... READ MORE >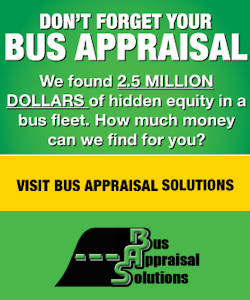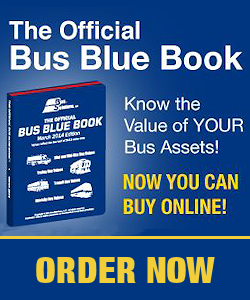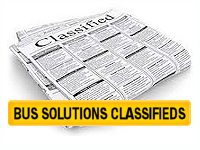 Bus Weekly Classified Ads
Contact Us Today
for Classified Ads Placement and Sizes!