Toyota announces plans to sell fuel-cell buses

Toyota Motor Corp. will begin selling fuel-cell buses (FC buses) under the Toyota brand in early 2017.

Having already undergone repeated field tests for practical use, the Bureau of Transportation of the Tokyo Metropolitan Government plans to utilize two of these FC buses (model name: Toyota FC Bus) as fixed-route buses.

Toyota plans to introduce over 100 FC buses mainly in the Tokyo area, ahead of the Tokyo 2020 Olympic and Paralympic Games.

In view of this, the FC buses will be sold for the first time in Japan in early 2017, so as to help increase the level of understanding by the general public of the utilization of FC buses as a form of public transportation.

In preparation for the Tokyo 2020 Olympic and Paralympic Games, the number of FC buses being introduced will increase steadily going forward. Together with this, Toyota aims to engage continuously in the diligent development targeted at the expansion of the introduction of the new FC buses from 2018 so as to contribute to the realization of a hydrogen-based society.

The Toyota FC Bus was developed by Toyota, based on the company's experience in developing FC buses together with Hino Motors Ltd. (Hino). The Toyota Fuel-Cell System (TFCS), which was developed for the Mirai fuel-cell vehicle (FCV), has been adopted to provide better energy efficiency in comparison with internal combustion engines, as well as to deliver superior environmental performance with no CO2 emissions or substances of concern (SOCs) when driving.

The bus also uses a high-capacity external power supply system. With a power supply capable of a nine kW maximum output, and a large capacity of electricity supply at 235 kWh, the FC bus can be used as a power source in the event of disasters, such as at evacuation sites such as in school gymnasiums or, its electricity supply can also be harnessed for home electric appliance use.

The Toyota Group considers the use of hydrogen to be a powerful source of energy for the future. Toyota has released the Mirai FCV, while also engaging in the technological and product development of FC buses, fuel-cell forklifts, as well as................READ MORE >
Alexander Dennis' Enviro500 concept bus on display in Singapore

Alexander Dennis Ltd.'s (ADL) Enviro500 full low-floor, three-door, two-staircase double-deck bus was on display at the LTA-UITP Singapore International Transport Congress and Exhibition (SITCE) in Suntec City, Singapore October from 19 to 21, 2016.

The Enviro500 concept bus, commissioned by the Land Transport Authority (LTA), is the result of close collaboration between the transport agency and ADL. Exhibited at a series of Bus Carnivals at venues across Singapore in March and April 2016, visitors were encouraged to provide their feedback on the design.



The concept bus retains many of the features which have made ADL's Enviro500 the most popular high-capacity double deck bus in the world. The most significant difference is the third door and second staircase. The second and third doors act as the exit points for all riders, the result being an efficient, two-stream passenger flow throughout the vehicle which speeds up boarding and alighting, reduces vehicle dwell time at bus stops, and enhances the passenger experience. Ease of access for all passengers is guaranteed due to the absence of any internal steps in the lower saloon.

The bus has a range of sophisticated onboard specifications including luxurious high-back contoured seating, Wi-Fi, USB charging points at all seats, mood lighting, and passenger information screens. Improvements for the driver include a comfortable, ergonomically designed seat within the spacious cab area. A large curved windscreen offers excellent visibility, and................... READ MORE >
Visalia Transit facility receives EPA cert. for energy efficiency

California-based Visalia Transit was recognized for environmental stewardship by earning the U.S. Environmental Protection Agency's ENERGY STAR certification for its transit center.

This recognition signifies that the building performs in the top 25 percent of similar facilities nationwide for energy efficiency and meets strict performance levels set by the EPA. Visalia Transit has also added seven new compressed natural gas (CNG) buses to its fleet, making its entire fixed-route and Dial-A-Ride fleet run on alternative fuel.

Commercial buildings that earn EPA's ENERGY STAR certification use an average of 35 percent less energy than typical buildings and also release 35 percent less carbon dioxide into the atmosphere. The Visalia Transit Center improved its energy performance by managing energy strategically across the entire organization and by making cost-effective improvements...............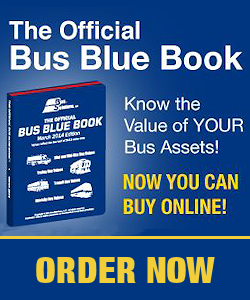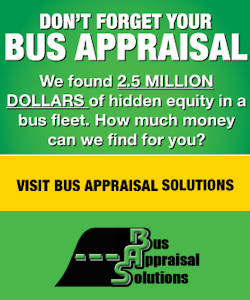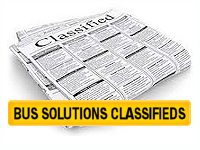 Bus Weekly Classified Ads
Contact Us Today
for Classified Ads Placement and Sizes!