Worn tires may have played role in fatal CA motorcoach crash

From NBC News:

The tires on the 1996 bus that slammed into a big rig in California over the weekend were worn so far below safety standards that the bus could have been taken out of service, investigators said Tuesday.

The motor coach, owned by USA Holiday tours, hit a tractor-trailer early Sunday, killing the driver and 12 passengers and injuring more than 30 other people.

National Transportation and Safety Board (NTSB) officials said a preliminary examination of the tread on the 1996 MCI bus found that multiple tires were worn below safety standards.

"Based on tire conditions, the vehicle was out of compliance with Commercial Vehicle Safety Alliance inspection criteria, and it could have been placed out of service," Earl Weener, an NTSB board member, said at a news conference.

Worn tires can affect a vehicle's ability to grip the road. Weener said the NTSB will continue to investigate vehicle conditions as well as driver histories to determine what caused the accident, but he cautioned that it could take at least a year for a full picture to emerge.

The tour bus was returning to Los Angeles from the Red Earth Casino in Thermal, Calif., when the accident................... READ MORE >
NJ Transit reinstates MCI Commuter Coach order

From Metro:

Motor Coach Industries (MCI), a subsidiary of New Flyer Industries Inc., announced that its commuter coach contract with New Jersey Transit (NJ Transit) has been reinstated.

In October 2015, NJ Transit awarded a six-year contract to MCI for 772 commuter coaches and options for an additional 450 coaches. In April 2016, a purchase order was issued for the first fiscal year's production of 184 coaches, of which 142 were scheduled to be delivered in 2016.

In July 2016, after the first five coaches were accepted, NJ Transit advised MCI that the replenishment of the New Jersey Transportation Trust Fund Account (the TTFA) had been delayed and that New Jersey Gov. Chris Christie had issued Executive Order No. 210 directing the immediate and orderly shutdown of all ongoing work funded under.................... READ MORE >
Davey Coach Becomes Official Ameritrans Parts Supplier

From: ABC Companies:

Davey Coach, the leading North American mid-size bus and shuttle dealer, has signed an agreement with ABC Companies to become the official Ameritrans Parts Supplier in North America.





Under the terms of the agreement, Davey Coach has acquired all existing Ameritrans parts inventory from ABC and has procured supplier relationships that support the Ameritrans parts brands.

Davey Coach is renowned for its quality products and high level of customer service and has been consistently awarded "Top Distributor" honors by manufacturers and consumers nationwide.

"We are delighted that this reputable industry-leader will continue to serve Ameritrans operators with the reliability and quality that the Davey Coach brand represents in the market," states Jon Savitz, Senior Vice President/Business Development for ABC Companies.

For more information about Davey Coach's products, services, support and more visit www.daveycoach.com.

ABC Companies is a leading provider to the transportation industry with diverse product and service offerings that cover a full spectrum of operational needs including new and pre-owned full size highway coach equipment. ABC supports customers with a comprehensive after sale service network for service and repairs, collision services, extensive OEM and quality aftermarket parts needs for transit, motorcoach and heavy-duty equipment from nine strategically placed locations throughout the U.S. and Canada. Additionally, private and municipal financing and leasing options are available through the company's financial services group............For more information, viisit www.abc-companies.com.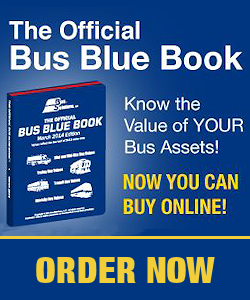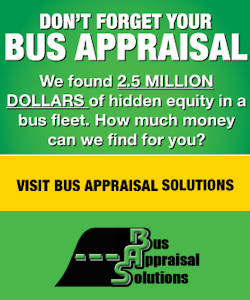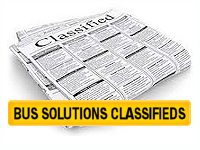 Bus Weekly Classified Ads
Contact Us Today
for Classified Ads Placement and Sizes!