2017 UMA Expo Now in Progress
The highly anticipated 2017 Motorcoach EXPO takes place from February 26th to March 2nd at the America's Center Convention Complex in downtown St. Louis.  The location is close to numerous exciting attractions, including the iconic Gateway Arch.
UMA's Motorcoach EXPO is the one of the largest gatherings of bus & motorcoach owners and operators. Attendees are provided with all-inclusive access to top-of-mind topics in education sessions, the latest products and services in the exhibit hall and networking opportunities with industry peers and colleagues.
The 5 day event showcases products like education and training products and services, powerful industry representation, timely information, business tools and valuable resources to help their businesses succeed etc. in the Business Services industry.
Geiger moves to President/CEO of CH Bus Sales


Duane Geiger

CH Bus Sales LLC announced the transition of Duane Geiger to the position of president/CEO, effective March 1, 2017. CH Bus Sales' current President/CEO, Bob Foley, will step down and assume the role of president of Coach Finance Group. Foley will remain an active member on the Board of Directors and will also continue to consult with the management team when needed.

Foley has served as the president/CEO since 2011. In his role he directed the organization to grow from a start-up to 70 employees, with four owned service locations, distributing three Temsa product models in addition to starting and managing Coach Finance Group. He also maintained excellent communication between Temsa Global, CH Bus Sales' management team and customers throughout the U.S., ensuring a quality product at a competitive price.

Foley shared, "Duane and I have worked together for over 20 years, so this will be a seamless transition. In addition he'll inject new ideas to push the company to the next level." Geiger has served as the executive president of sales & service since 2011. He has been an integral part in CH Bus Sales' growing success with the Temsa product across the U.S., according to the company. Prior to joining CH Bus Sales, he owned and operated a real estate services company, which began in 2002.

CH Bus Sales, LLC is the exclusive distributor of TEMSA Motorcoaches in the U.S. and Canada, offering two fully integral mid-size motorcoaches the TS 35 and the TS 30; as well as the full-size TS 45 coach.

CH Bus Sales offers............ READ MORE >


Bob Foley
ABC Companies Expansion for Long-Term Growth

ABC Companies is crafting and implementing a variety of corporate and infrastructure initiatives aimed at positioning the company for long term stability and expansion. The enterprise......... READ MORE >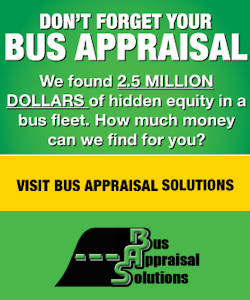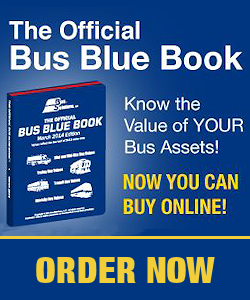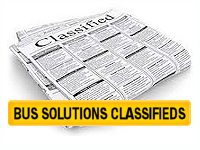 Bus Weekly Classified Ads
Contact Us Today
for Classified Ads Placement and Sizes!