Vandalia Bus Lines takes delivery of Van Hool CX45 at UMA Expo

Caseyville, IL-based Vandalia Bus Lines took delivery of a new Van Hool CX45 at the United Motorcoach Association 2017 Expo in St. Louis.

In addition to the graphics featuring St Louis' history and sights, the new vehicle is equipped with a 425 HP Cummins ISX 12.0 engine driving through an Allison B500 (Gen5) six-speed automatic transmission.

The 56-passenger luxury coach features Van Hool's unique rear passenger window, wood grain floor, 110-volt electric plugs, WiFi, and a six-monitor REI luxury entertainment system.

The new coach also features Van Hool safety technology including three-point seatbelts, backup cameras, antilock brakes, Smartwave Tire Pressure Monitoring, Kidde Fire Suppression System, daytime running lights, curbside lighting, and adaptive static aiming lights.

"Technology keeps improving, and we owe it to our passengers to provide the latest and greatest. In addition to the terrific amenities now available, we're investing in the latest safety technology such as electronic stability control and lane departure warning systems," said Vandalia President Dale Streif. "We transport everyone from Senior Citizens to professional college and high school athletic teams. Their safety and comfort is at the center of the way we operate our company.

Vandalia Bus Lines is now the headquarters of a group of transportation operations in the St. Louis area owned by the Streif's. Second-generation family members Dale, Dennis, Melissa, Roger and Lori are all involved in managing the growing business. Active in IMG and NTA, they are Founding Members of the Motorcoach Council. Vandalia operates 67 vehicles and every three-axle bus in their fleet is a Van Hool.
Bus Coalition® asks Trump for bus funding in infrastructure plan

The Bus Coalition®, a broad coalition comprised of public, private, and non-profit bus industry leaders from across the U.S., have sent a letter to President Trump asking him to restore bus funding.

This could replace approximately 14,000 buses and create over 100,000 jobs, as part of his infrastructure package.

The letter, which was signed by 285 bus transit systems from 49 states, includes many systems from less populated areas that have seen a decline in federal resources and face a growing backlog of older buses and facilities. Text of the letter, signed by Bus Coalition Chairman Jeff Hamm and CTAA Executive Director Scott Bogren, is below:

"Dear President Trump,

On behalf of The Bus Coalition's (TBC) membership of over 140 small, medium, and large transit agencies spanning across 36 states and the Community Transportation Association of America's (CTAA) 1,500 small city, rural, tribal, and specialized transit operations, we would like to congratulate you on your inauguration as the 45th President of the United States. We appreciate your commitment to improving America's transportation infrastructure and look forward to working with you to ensure bus transit systems continue to provide vital service throughout the country.

Buses are the backbone of transit service across America. More than one-half of all transit trips in America are carried by buses, providing access for workers, students, families, patients, and shoppers. Many CTAA and TBC members come from rural and suburban........... READ MORE >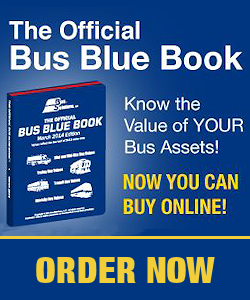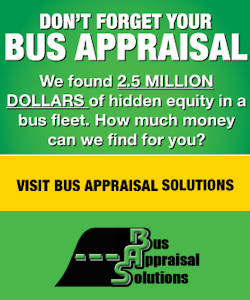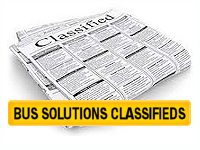 Bus Weekly Classified Ads
Contact Us Today
for Classified Ads Placement and Sizes!