New Flyer showcases electric bus at U.S. DOT Earth Day Fair

From: Metro:

New Flyer Industries Inc. signaled its expansion in electric mass transportation, by showcasing the Xcelsior® XE40 electric bus it delivered to the Washington Metropolitan Area Transit Authority (WMATA) at the U.S. Department of Transportation's (U.S. DOT) Earth Day Fair.

The Earth Day Fair is designed for U.S. DOT employees to learn about energy-efficient products that help improve air quality and the environment.

"New Flyer is honored to make its debut with WMATA at DOT Earth Day, especially as the zero- emission electric bus continues to gain popularity with transit authorities and their ridership," said Joe Gibson, New Flyer VP, national sales. "We have unique strengths in this marketplace - the reliable Xcelsior is supported by the largest parts and 24/7 service support operation in North America. It's important to have the right equipment as more of our customers move towards electric propulsion, but essential to offer an electric bus service and training infrastructure that never sleeps."

Gibson led the tour of the electric bus in front of U.S. DOT headquarters in downtown Washington, D.C., noting that WMATA's Xcelsior XE40 bus is equipped with New Flyer Connect®, an onboard telematics systems and support service that will allow real-time remote monitoring of the battery-electric vehicle for optimal management and operational efficiency.

New Flyer is the leader in zero and low-emission electric transit buses, having delivered over 6,400 buses with electric propulsion systems including electric-trolley, electric-hybrid, fuel cell- electric, and battery-electric buses in 35-, 40- and 60-foot configurations.

New Flyer's Xcelsior XE40 battery-electric 40-foot bus accommodates 76 passengers (40 seated). WMATA is the second major metropolitan transit fleet in the U.S. to place New Flyer's battery-electric bus in service.

The Chicago Transit Authority (CTA) also has New Flyer Xcelsior XE40 buses in daily operation, offering passengers a cleaner, quieter ride with significant fuel and maintenance savings.

Within the next two years, New Flyer expects to deliver battery-electric buses to Portland; Los Angeles; Salt Lake City; Boston; Alameda County, Calif.; and Albany, N.Y. READ MORE >
Motorcoach sales remain steady, says ABA report

American Bus Association Foundation's (ABAF) Motorcoach Builder Survey

Based on surveys of the major motorcoach manufacturers that sell vehicles in the U.S. and Canada, motorcoach sales from the participating manufacturers remained virtually unchanged over the prior year to a total of 803 units (547 new coaches and 256 pre-owned coaches) in the first quarter of 2017, according to the American Bus Association Foundation's (ABAF) Motorcoach Builder Survey.

"Last year, especially the fourth quarter, was very strong for motorcoach sales," said ABAF President Peter Pantuso. "We are seeing the same trend for 2017. The industry continues to grow and we have seen an upward trajectory with sales over the past few years since the end of the recession."

Shifts Boost Intercity Bus Industry



Last autumn marked something of a turning point for the country's scheduled intercity bus operators. After months feeling the pinch of lackluster economic growth and low fuel prices, which heightened automobile and airline competition, the industry found itself cutting fares, only to find ridership unresponsive due to a weak economy. Many anticipated that winter would bring "rough sledding."

As the leaves turned, however, so did the mood of bus industry executives. Oil prices turned upward, pushing intermediate crude from around $46/barrel at Labor Day in 2016 to $52 by the end of year - a change immediately felt by motorists at the pump.  An improving economy drove unemployment rates down to levels well below those a year earlier. Consumer confidence - and the stock market - rose accordingly.


Sales for the first quarter were dominated by private sales of new 45-foot motorcoaches, which saw an 18.5% increase over the same period in 2016. The less than 45-foot sales saw a slight decrease in the first quarter but are expected to pick up as the year progresses.

"We did see an increase in bigger buses this quarter, which is always a good sign for group travel," said Pantuso. "While the quarter over quarter remained unchanged, the first quarter is usually a slower period for sales, but we expect sales of all sizes of coaches to pick up through the year."

To view the report, click here.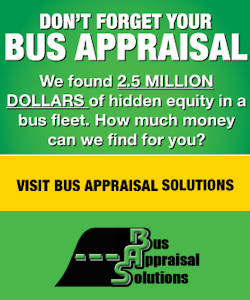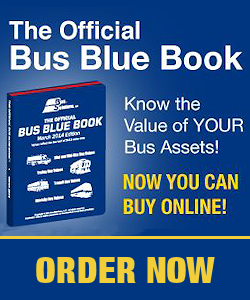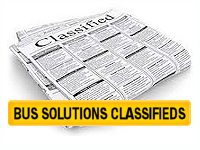 Bus Weekly Classified Ads
Contact Us Today
for Classified Ads Placement and Sizes!